Jade Hurley - Gold And Silver (1966)

Singer-songwriter-pianist Jade Hurley's big break came with his appearance on Johnny O'Keefe's Six O'Clock Rock in August 1959. That was when he changed his name from John on JO'K's advice.

From the 70s, Jade Hurley (b.1943) became famous for his country-rock performances of rock'n'roll standards on The Mike Walsh Show, and he has successfully continued in that vein ever since.
It is possible to overlook, though, that his earlier singles were usually of his own original material, notably How I Lied (1965, #32 Sydney, #11 Melbourne, #25 Brisbane, #5 Perth), where his confident country-pop vocals nicely combined with the melodic and rhythmic feel of the current beat era.
With the exception of Gold And Silver, Jade Hurley's other charting songs were all his own compositions: My Baby Judy (1965, #11 Perth), I'm Ashamed Of You (1966, #28 Perth) and Down In The Riverina (1974, #34 Sydney).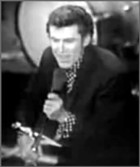 In 1998 Jade Hurley was awarded an Order of Australia for services in entertainment and community work. He continues to tour Australia in his distinctive motorhome: in 2008 he broke attendance records at the Tamworth Country Music Festival when 1550 people turned up to his show.

See Jade Hurley – How I Lied at Youtube (right).
Listen to Jade Hurley at MPH, including How I Lied.
References: 1. Damian Johnstone's biography of Johnny O'Keefe, The Wild One (2001) recounts Johnny O'Keefe's role in Jade Hurley's career from the late 50s to his 70s rock revival phase. 2. Rock 'n' roll Hurley goes to Heaven, Gold Coast Bulletin, 6 June 2002 3. Jade Hurley notes at MemorableTV.com.
Photo (top): TamworthRagePage.com
Official site: JadeHurley.net.

---
Sonny James - Gold And Silver (1963)

Single on Capitol by Country singer known as The Southern Gentleman, born James Loden in 1929.
Sonny James dominated the Country charts in the late 60s with a long run of #1 hits, most of them covers of well-known songs. His recording of the Carole Joyner–Ric Cartey composition Young Love

had charted #1 on the mainstream pop charts in January 1957 when Tab Hunter's version followed it to #1 a couple of weeks later.
The writer credit on the Sonny James single is to Shurl Legate.
Further reading: 1. Sonny James biography at All Music Guide. 2. Official site at SonnyJames.com. 3. Sonny James, inductee at Country Music Hall of Fame. 4. Sonny James discographies at Petr Vitous's website: albums and singles.
Label shot from EstatesLtd eBay Store: music, paper items and yearbooks from estate sells, flea markets, private collections and individuals [link].

---
George Jones - Gold And Silver (1964)
On United Artists album I Get Lonely In A Hurry, November 1964 by much-admired Texas-born Country singer. George Jones's recording career began in 1952 with Starday Records owner Pappy Daily, his producer over the next 16 years. From the early 70s he was produced at Epic by Billy Sherrill.
Most accounts of George Jones's career refer to his stormy relationship with Country star and fellow Epic artist Tammy Wynette, whom he married in the late 60s and with whom he cut a number of well-regarded duets. The consensus, though, is with Stephen Thomas Erlewine at All Music Guide:
By most accounts, George Jones is the finest vocalist in the recorded history of country music. Initially, he was a hardcore honky tonker in the tradition of Hank Williams but over the course of his career he developed an affecting, nuanced ballad style. In the course of his career, he never left the top of the country charts, even as he suffered innumerable personal and professional difficulties.
Jade Hurley, at his website, names George Jones as his favourite male singer, "the singer's singer".
References: 1. George Jones biography at All Music Guide. 2. George Jones entry at MusicWeb Encyclopaedia of Popular Music.
Official site: GeorgeJones.com
---
Milo Liggett - Gold And Silver (1964)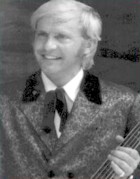 Single on Monument by Sonny James's bassist and road manager.
Milo Liggett is the composer, using his real name Shurl or Shirley Legate.
From SonnyJames.com:
Milo Liggett was road manager, featured artist, and played a major role in all James' personal appearances. His comedy with Sonny is remembered by loyal fans throughout the country music industry. He also recorded for Monument Records. Sonny and Milo continue to have a deep friendship.
Photo from The Legendary 1960s and 1970s at SonnyJames.com.
Thanks to Larry Shutes for clarification.