Co-charted in Adelaide with the original version by Tommy Overstreet.
Single on Fable, August 1971, charted September-October.
Johnny Chester: Melbourne singer, guitarist and songwriter who started out with the Chessmen in the late 50s, performing at dances he organised in the northern suburbs. Signed to Melbourne's W&G label, he had a number of Top 10 hits in Melbourne from 1961: see, for example, Shame And Scandal (In The Family) (1972, #1 Melbourne, also #2 Brisbane #2 Perth), also recorded with Jigsaw.
Chester – "Chess" to his fans – became a disc jockey with Top 40 station 3UZ in 1966. He has also hosted TV shows and broadcast on Radio Australia. He built a successful national career in country music from the 1970s: he was Male Vocalist of The Year for three years in a row in the Country Music Awards (The Golden Guitars) 1981-1983. More recently he wrote Rebound: The Musical for the stage. His website is at johnnychester.com.
The band Jigsaw had a number of charting records in its own right, including Yellow River (1970) and How Do You Do (1972). Not to be confused with the British Jigsaw (Sky High).
See also, for example, Chester's versions of Shakin' All Over and Midnight Bus. More at the Artists' page under 'C'.
Tommy Overstreet - Gwen (Congratulations) (1971)
Co-charted in Adelaide with the cover version by Johnny Chester.
Single on Dot, April 1971, produced by co-writer Ricci Mareno, a regular writer and producer for Tommy Overstreet.
Tommy Overstreet (1937-2015) was an Oklahoma-born country singer and songwriter, often seen on country TV show Hee Haw. He was a nephew of Gene Austin, a recording star of the 1920s and 30s. See also Heaven Is My Woman's Love, covered in Australia by Col Joye & Jigsaw.
Ricci Mareno (1938-2008), real name Joseph R. Ricci, was a pop songwriter and producer in his hometown of Philadelphia before moving to Nashville and a successful career in country music in the late 60s. In the 80s he went into TV and video production. Like his collaborator on this song, Jerry Gillespie, he wrote a number of popular songs for Tommy Overstreet including the Gillepsie-Mareno co-write A Seed Before the Rose (1972), and Send Me No Roses (1973), written with another frequent collaborator Charlie Black.
---
See also Don't Say Nothin' (If You Can't Say Anything Nice), co-written by Mareno as Joseph Ricci and covered in Australia by Sydney group The Chantinos (1964).
---
Jerry Gillespie also wrote, for example, the Tommy Overstreet country hit That's When My Woman Begins (1975). Gillespie has had many songs on the country charts by artists that include The Bellamy Brothers, The Kendalls and Christy Lane, and he has also produced some notable country artists.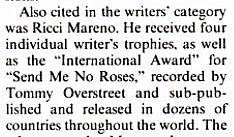 References, further reading: 1. Joseph R. Ricci's obituary at Find A Grave gives a good overview of his working life as Ricci Mareno. He was prolific: he has 22 pages of credits at Discogs.com. 2. The Jerry Gillespie entry at Wikipedia lists his main successes, but the three pages of Gillespie's credits at Discogs.com give a better idea of his output. 3. Tommy Overstreet interview at Country Stars Online. 4. Tommy Overstreet biography at All Music.
Image: SASEC Awards,Billboard 27 October 1973 (Google Books)