Grantley Dee - Let The Little Girl Dance (1966)
Double-sided hit in Melbourne and Perth with Answer Me.
Grantley Dee (1946-2005) was a popular Melbourne disc jockey and singer who worked on radio at 3AK Melbourne and later at 7EX Launceston. He had six charting singles in Melbourne in the late 60s. See also Wild One (1966).
See the Rockabilly Hall of Fame's Grantley Dee page for a comprehensive biography.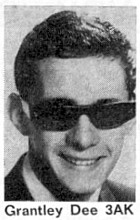 (Australian Radio Almanac, 1968)
---
The Gingerbread Men - Let The Little Girl Dance (1965)
Single on Columbia by Adelaide band whose line-up included Idris Jones, later of The Mixtures, and his brother Evan. The Jones brothers wrote The Mixtures' hit The Pushbike Song (1970).
Not to be confused with Melbourne contemporaries The Gingerbreadmen.
L to R: Tony McNicoll (bass), Dean Birbeck (drums), Idris Jones (lead guitar), Evan Jones (rhythm guitar).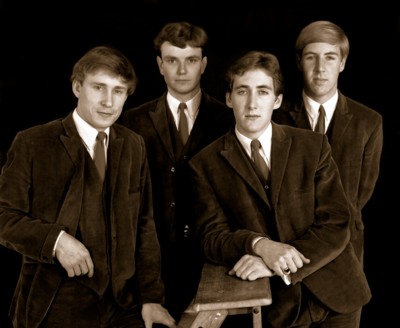 Image: Thanks to Evan Jones.
---
Ernest Tubb - Let The Little Girl Dance (1960)
Single on Decca by legendary honky-tonk country singer (1932-1984). See David Vinopal's biography of Ernest Tubb at All Music Guide.
---
Billy Bland - Let The Little Girl Dance (1960)
Single on New York label Old Town by versatile pop/r&b singer whose only hit was this song.
Produced by the song's co-writer Henry Glover (1921-1971) who had a varied career, working (for example) as a record executive, producer, arranger, A&R man and writer. One of his compositions was Drown In My Own Tears, a soul classic recorded by many, notably Ray Charles and Joe Cocker. See Steve Huey's comprehensive biography at All Music Guide.
This is Billy Bland: not to be confused with Bobby 'Blue' Bland.
---
Carl Spencer & The Videos* - Let The Little Girl Dance (1958)
Single on Manhattan label, B-side of Sack Slacks (also co-written by Carl Spencer).
Also recorded by Dee Torres (Dore, 1966) and Eddy Pleasure (Atlantic, 1987).
References: 1. Dick Rosemont's Originals Project (go to Main Song Listing). 2. Arnold Rypens's Originals updates. 3. Carl Spencer repertoire at BMI (search page). 4. Marv Goldberg's pages on Carl Spencer associate Arthur Crier and Old Town Records.