Grantley Dee - Let The Little Girl Dance (1966)
Single on His Master's Voice, double-sided hit in Melbourne and Perth with Answer Me.
Grantley Dee (Grantley De Zoete 1946-2005) was a popular Melbourne disc jockey and singer who worked on radio at 3AK Melbourne and later at 7EX Launceston. He had six charting singles in Melbourne in the late 60s.
See also Wild One (1966) and Grantley Dee & Little Pattie – Love Is A Happy Thing.
Further reading: Rockabilly Hall of Fame's Grantley Dee page [archived].
Thanks to William Fitch for this item of interest: Grantley Dee's parents ran a newsagency on the corner of Burke Road and Belmore Road, East Kew, opposite Stradbroke Park (by email).
---
Billy Bland - Let The Little Girl Dance (1960)
Single on New York label Old Town by versatile pop-r&b singer whose only hit was this song.
Produced by Henry Glover (1921-1971) who had a varied career, a talented jack of all trades who served at various times as a producer, arranger, songwriter (Huey). One of his compositions was Drown In My Own Tears, a soul classic recorded by many, notably Ray Charles and Joe Cocker.
*Bert Lawrence was credited as co-writer on Carl Spencer's 1958 recording, but Billy Bland's (1960) credited Henry Glover, as did subsequent versions. The song was altered considerably for Billy Bland's version, and producer Glover played a crucial role in recording and releasing it, in a process that was almost an accident (Unterberger).
This is Billy Bland: not to be confused with Bobby 'Blue' Bland.
Further reading: 1. Henry Glover biography by Steve Huey at All Music. 2. Billy Bland Biography by Richie Unterberger at All Music.
---
Carl Spencer & The Videos - Let The Little Girl Dance (1958)
**Bert Lawrence is credited as co-writer but subsequent versions credit Henry Glover instead. I can find no copyright registration by Spencer–Lawrence in years around 1958. See above under Billy Bland.
New Yorkers Carl Spencer and his brother Bobby both sang in R&B vocal groups and wrote songs (Bobby co-wrote My Boy Lollipop). Carl was also in The Halos, released solo records, and recorded with Arthur Crier as The Pre-Historics .
References: 1. Song history at The Originals by Arnold Rypens. 2. Marv Goldberg's page on Carl Spencer's associate Arthur Crier mentions Carl in several places. 3. Discogs.com bios (linked in text or browse Discogs.com site search for Carl Spencer).
---
The Gingerbread Men - Let The Little Girl Dance (1965)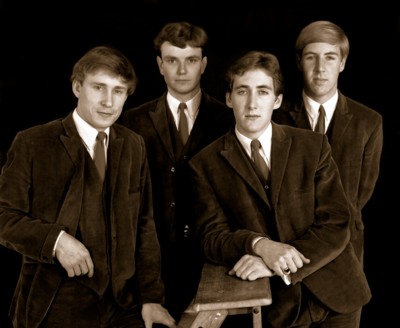 Single on Columbia by Adelaide band whose line-up included Idris Jones, later of The Mixtures, and his brother Evan.
Idris & Evan Jones wrote The Mixtures' hit The Pushbike Song (1970, #2 UK #44 USA #1 NZ #1 Sydney #1 Melbourne #1 Brisbane #1 Adelaide #2 Perth.
Not to be confused with Melbourne contemporaries The Gingerbreadmen.
Image: Thanks to Evan Jones.
---
---
Dee Torres - Let The Little Girl Dance (1966)
Single on Doré, an affiliate of the Era label of Herb Newman and Lew Bedell (aka Louis Bideu). Doré's best known record is probably Billy Joe & The Checkmates' Percolator (Twist) (1961, #10 USA),
Herb Alpert worked in A&R for Doré before co-founding A&M Records.
This appears to have been the only record by Dee Torres. Kent's collection Dore L.A Soul Sides Volume 2 includes Torres's composition I Want You from the B-side.
Doré was home to many one-off acts such as Dee Torres, the Puffs, Rambling Willie and Johnny Braff, who produced fascinating tracks..

Notes to Dore L.A Soul Sides Volume 2
---
Toni Williams With The Tremellos - Let The Little Girl Dance (1960)
Single on La Gloria by popular singer-guitarist Toni Williams (1939-2016) who also worked as Antoni Williams. He was born in The Cook Islands but lived in New Zealand from childhood.
His skiffle group The Housewarmers, formed in 1956, became rock'n'roll band The Tremellos a couple of years later.
Williams released nearly 40 singles and EPs and some albums throughout the 60s and 70s. He charted with Rose (Can I Share A Bed With You) (1976, #11 NZ) and One I Sing My Love Songs To (1977 #9).
Further reading: Toni Williams pages at NZ music sites AudioCulture and RockHappenz.
Version alert from Philippe.