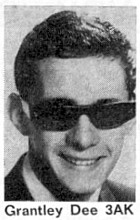 Single on Columbia, August 1968. Melbourne meets Sydney: Grantley Dee, 3AK disc jockey and pop star, with Little Pattie, teen surf craze icon: see, for example, He's My Blonde-Headed Stompie-Wompie Real Gone Surfer Boy.
---
The Four Freshmen - Love Is A Happy Thing (1968)
On the Liberty album Today Kind Of Thing, January 1968, by popular and respected 50s harmony group (also instrumentalists) formed in 1948 and continuing to this day with freshened lineups.
Here, they were clearly going for a contemporary sound, but the result isn't entirely convincing.
Further reading: 1. Four Freshmen biography by Bruce Eder at AllMusic. As Eder puts it, noting their recognition in the field of jazz, New lineups of the group… have continued to perform into the second decade of the 21st century… and have been considered an artistically valid ensemble. 2. In mid-2020 the website of the current (and young) Four Freshmen was listing gigs into 2021.
---
---
The Mike Sammes Singers - Love Is A Happy Thing (1968)
Title track of Love Is A Happy Thing, album on Decca by much-used British session singers led by arranger Mike Sammes (1928-2001).
Version alert from Patrick Rands.