The Mixtures - The Pushbike Song (1970)
Melbourne band formed 1965 that went through numerous changes of style and personnel until its demise in 1973.
Song written by vocalist Idris Jones with his brother Evan, who was not a band member. (They were both in Adelaide's Gingerbread Men: see Let The Little Girl Dance.)
After their Australian success with a cover version of UK band Mungo Jerry's In The Summertime earlier in the same year, The Mixtures released this original song written in a similar vein, which again topped the Australian charts and was a hit in the UK as well.
---
The Pushbike Song has often been mistaken for a Mungo Jerry record because of its stylistic similarity with In The Summertime. Mungo Jerry did finally release a version of the song, but not until 1990 (see below).
---
Thanks to Terry Stacey for suggestion and background.
Further reading: Wikipedia article on The Pushbike Song.
---
Great American Disaster - The Pushbike Song (1971)
Single on United Artists released in numerous countries in 1971.
Produced by Pierre Tubbs and Ed Welch: follow the links for their diverse CVs. The B-side is written by Tubbs under the pseudonym Riley James.
The band (possibly a studio aggregation) has the same name as a British chain of American-style hamburger shops in the 70s.
Co-producer Welch was music director and arranger of The Wurzels' 1978 parody version The Tractor Song (see below).
♫ Listen at YouTube
---
---
The Wurzels - The Tractor Song (The Pushbike Song) (1978)
Parody
Parody of The Pushbike Song from 1978 album I'll Never Get A Scrumpy Here.
Music director and arranger is Ed Welch, co-producer of Great American Disaster's version of The Pushbike Song (see above).
The Wurzels: North Somerest comedy band specialising in country bumpkin parodies of well-known songs, best known for their 1976 hit Combine Harvester (#1 UK, #30 NZ), a parody of Melanie's Brand New Key.
See Wurzelmania, a comprehensive site on The Wurzels, their founder Adge Cutler, and the musical genre of Scrumpy and Western. Oh arrrr…! (You probably had to be there.)
♫ Listen at YouTube
---
Mungo Jerry - The Pushbike Song (1990)
Just to confuse those who mistakenly thought The Pushbike Song was "a Mungo Jerry song", this is a 1990 tribute version by Mungo Jerry that appeared long after The Mixtures' original version. It was on Mungo Jerry's album All The Hits Plus More.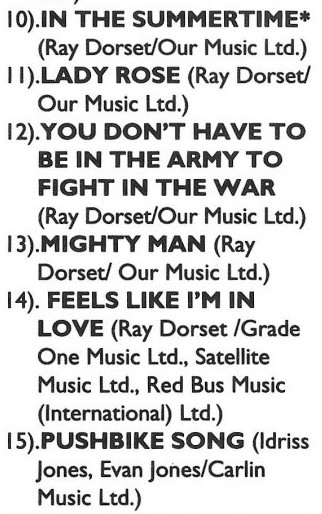 Mungo Jerry said they were 'flattered' by Pushbike and Ray (Dorset) recorded it years later by way of, um… tribute, his version appearing on All The Hits Plus More in 1990.

Mungo Jerry fan John Van Der Kiste
Further reading: John Van Der Kiste's feature They Sound Like Mungo Jerry from his Memoirs of a Mungo Fan at the MungoMania site, now defunct. Read the archived page (2006) at Internet Archive. Do not go to the original page: it has been replaced by phony links that will install malware (as I found out).
Thanks to Alex Petchenev.
♫ Listen at YouTube
---
---