Double-sided hit in Melbo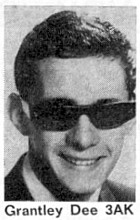 urne with
Let The Little Girl Dance.
Grantley Dee (1946-2005) was a popular Melbourne disc jockey and singer who worked on radio at 3AK Melbourne and later at 7EX Launceston. He had six charting singles in Melbourne in the late 60s. See also Wild One (1966).
Further reading: See the Rockabilly Hall of Fame's Grantley Dee page for a comprehensive biography and photographs.
Image: Australian Radio Almanac, 1968.
---
Answer Me has a complicated history. Apart from translations or rewrites in a number of languages, the most significant versions are:
1. Mütterlein, the original German-language song (1952);
2. Answer Me, Lord Above, first English version, lyrics by Carl Sigman (1953);
3. Answer Me, My Love (aka Answer Me), with Sigman's lyrics slightly altered, the most familiar version, as in Nat 'King' Cole's 1954 US hit;
4. Glaube Mir, the German hit version (1954), with new lyrics by the original lyricist.


Now read on…
---
David Whitfield - Answer Me (1953)
This appears to have been the first version to use Carl Sigman's amended lyrics, Answer me, oh my love instead of Answer me, Lord above.
Michael Sigman, Carl's son, notes: Carl hated having to rewrite the lyrics, and always considered the original a far superior lyric. (Email)
---
Theo Morgan, in a 2005 Usenet post, writes that the BBC would not air David Whitfield's first recording of Answer Me because of its religious connotations, so he recorded it again with the secularised lyrics.
In the same thread, Scarlotti posts both versions of the lyrics and confirms that Frankie Laine later recorded the Answer me, oh my love version as well, initially for the South African market.
---
The Guinness Book of 500 Number One Hits (Rice et al, 1982) notes that David Whitfield's version charted two weeks before Frankie Laine's original, only to be displaced a week later by Laine. Four weeks later, the two versions were sharing the #1 spot. All historic stuff for chart data enthusiasts, apparently. Also mentioned at UK Charts Facts and Feats.
---
Frankie Laine - Answer Me, Lord Above (1953)
With the Norman Luboff Choir.
This version uses Carl Sigman's original English lyrics to Mütterlein. In later versions the phrase Lord above became Oh my love (see above).
The Carl Sigman site Majorsongs lists over 60 artists who have recorded Answer Me. They include: Barbara Dickson (1976, #9 UK), Johnny Rivers (1960, Cub single), Gene Pitney (1964, Blue Gene), P. J. Proby (1965, P. J. Proby EP), Ray Stevens (1967, Monument single), Petula Clark (1968, The Other Man's Grass Is Always Greener), Bryan Ferry (1993, Taxi), Joni Mitchell (2000, Both Sides Now) Perry Como, Bing Crosby, Renee Fleming, Helen Forrest, Robert Goulet, Engelbert Humperdinck, Bert Kaempfert, Mantovani, Matt Monro, Hugo Montenegro, Marty Robbins, George Shearing, Jerry Vale and Mark Wynter.
In Denmark, Keld & The Donkeys charted #16 with their version of Answer Me (1967). [Thanks to Erik Alm.]
---
The Beatles' song Yesterday has reminded some listeners of Answer Me. As Carl Sigman's son Michael puts it: I always felt there was a connection between Yesterday and Answer Me – nothing inappropriate, of course, but a similar cadence and spirit. (Billboard article reprinted at MajorSongs)
---
---
Nat 'King' Cole - Answer Me, My Love (1954)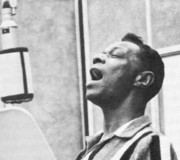 Although the song had already been a hit in the UK for David Whitfield and Frankie Laine, this is the version that broke the song in the US and encouraged Fred Rauch to write fresh German lyrics (see above).
---
Leila Negra - Mutterlein (1952)
78 rpm record on Musica label: see entry at database of Swedish 78s (at SLBA).
Composer Gerhard Winkler wrote the song in honour of his mother's 75th birthday. Alternative titles: Mütterlieb and Muetterlein, Muetterlein. Lyrics by Fred Rauch, who later wrote fresh lyrics for the song as Glaube Mir.
Further reading: Stephan Pflicht's website on Gerhard Winkler (spotted by Joop Jansen); and the entries at The Originals and Wikipedia about Answer Me, My Love.
---
Ray Peterson - Answer Me (1960)
Single on RCA by Texas-born singer (1939-2005) best known for Tell Laura I Love Her (1960, #7 USA) and Corinna, Corinna (1960, #9 USA). Ray Peterson set up his own label, Dunes, after the success of Tell Laura I Love Her.
Further reading: Ray Peterson biography at All Music Guide
---
Annie De Reuver And Heleentje Van Capelle - Meisje klein (1953)
Listed at The Originals and at Archief Rijnmond. There may also have been a release by Annie de Reuver alone in 1954 (listed at site now offline).
This is one of a number of versions in various languages. Some of the alternative titles listed at GEMA are Tausend Wunderbare Stunden, Als Ich Tat Die Ersten Schritte, Contestame, Creame, Louceni, Neverim Nahodam, Hablame, Graziella, and Respondeme Amor.
---
Wolfgang Sauer - Glaube Mir (1954)
After the success of Gerhard Winkler's Mütterlein in the USA as Answer Me, My Love the original lyricist Fred Rauch wrote new German lyrics for the song. As Glaube Mir (Believe Me), recorded by Wolfgang Sauer, it finally became a hit in Germany, the country of its composition.
Further reading: the profile of Gerhard Winkler at GEMA.
---
Ray Stevens - Answer Me, My Love (1967)
Single on Monument by individualist singer-songwriter who, in spite of his versality, is probably best remembered for his MAD magazine-style humour on Ahab The Arab and other comic hits of the early 60s. See also Funny Man, one of his serious songs, covered in Australia by Ross D. Wylie.

Further reading: See the Ray Stevens album and singles discographies, as well as biographical notes and cover shots, at Petr Vitous's excellent Country LP Discography website.
---
The Harptones - Answer Me, My Love (1960)
Single on Co-ed label by popular New York doo-wop group formed in 1953. The Harptones were still listing gigs at their website in 2013, apparently with some continuity of membership.
This is a novel rewrite and rearrangement of the song, featuring a desperate falsetto refrain: I tried to call you on the phone, you didn't answer… Come on and answer me… Come on, come-a-come-a-come-a baby…
Further reading: 1. Harptones website. 2. Marv Goldberg's history of The Harptones. 3. The Wikipedia article on The Harptones tracks personnel changes 1953-2008 and beyond.