Gary Shearston's first charting single, on Columbia, from his 1965 album Australian Broadside.
Sydney Town is full of droll cultural and political references (some now obsolete), including The Wales (Bank of NSW, now Westpac), Prime Minister Menzies, the laundry powder Rinso, Oz magazine, and Sydney's Eastern Suburbs Railway, then abandoned but later built.
The co-writer is the distinguished Australian novelist and activist Frank Hardy (1917-1994). The sheet music credit is words by Frank Hardy; additional words and music by Gary Shearston. Both Hardy and Shearston appear in the song's copyright details.
Edgar Waters, in his liner notes to Australian Broadside, tells how the song was developed. Frank Hardy showed Gary Shearston new words he had written for a calypso song about the slums of Kingston Town. Shearston worked on the melody and changed some of the words, taking on suggestions from friends and ideas from other songs. Waters concludes that Sydney Town, in its present form, is very much a collective effort.
In 1964, apparently unimpressed by Shearston's alterations, Hardy published the lyrics as he had written them. It is instructive to compare them with the lyrics on Shearston's recording. For example, Shearston has added a verse about Oz magazine, and one about going down to King's Cross for sex (that one was contributed by an audience member at a Shearston concert).
Both lyrics have the refrain The more they try to keep me down / The better I live in Sydney town, and I'm guessing that the original calypso song (which I cannot identify) carried either those words or the spirit of them.
---
See also Gary Shearston – I Get A Kick Out Of You.
Further reading: 1. Garyshearston.com, including the page on Australian Broadside. Go to Album notes part 3 for a more detailed discussion of Sydney Town by Shearston's mentor Dr Edgar Waters. 2. Frank Hardy's lyrics and footnote at Union Songs. 3. For some finer details about Shearston's early career see "Key players on the Sydney coffee lounge scene" by Malcolm J. Turnbull (not the ex-PM) at Warren Fahey's folklore website.
"Sydney Town" banned on radio station, April 1965. The station didn't like the way the song lampoons sponsors'products. Singled out was the line Rinso: keep Australia white, a whimsical linking of Australia's White Australia immigration policies with a well-known laundry detergent. Full story here.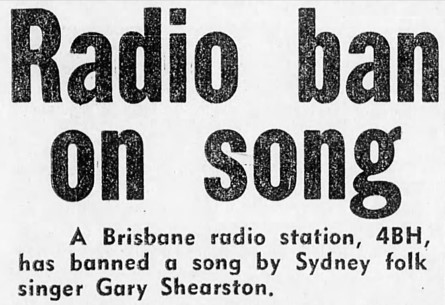 ---
Rolf Harris - Sydney Town (1965)
Single on Columbia [YouTube] by West Australian singer, songwriter, artist and TV entertainer, resident in the UK since the early 1950s. His best-known song is Tie Me Kangaroo Down Sport (1960), a hit in Australia, UK and USA.
* As noted above, Sydney Town originated in Frank Hardy's rewrite of a calypso song, further reworked by Shearston. The credit to Frank Hardy alone on Rolf Harris's record makes sense, though, as Harris follows Hardy's published words more closely. He changes some words and rearranges two verses, but it is mainly Frank Hardy's song.
Of Hardy's eight verses, Harris sings the first five, but instead of Hardy's sixth verse about going on strike, Harris starts Shearston's verse about King's Cross. He comically baulks at the word "sex" in the first line and goes on to Hardy's eighth and seventh verses (in that order). In those verses, Sydney folk venue the Troubadour is replaced by TV's Mavis Brampton Show, and "monopolies" is replaced by "big-wigs".
The final score: Frank Hardy's printed version has eight verses, Gary Shearston's has eleven, and Rolf Harris's has seven from Hardy plus the false start on Shearston's King's Cross verse.
---
Throwdown SCHC - Sydney Town (2002)
Track on Foot To The Floor Hardcore by Cronulla NSW hardcore band with metal and punk influences, formed late 1990s, also known just as Throwdown.
Kyle Horton (v, b) and Bevynn Wilkerson (g, v) are credited as writers in this four-piece band that included Adam (g, v) and Anthony (aka Trousers) (d).
The reference for this version was Rolf Harris's recording.
SCHC stands for South Coast Hardcore, referring to the band's origin in the Sydney beachside suburb of Cronulla. They were influenced by the Venice, California skate scene with bands such as Suicidal Tendencies (who they supported on tour), Excel, and Uncle Slam.
Disambiguation: 1. American hardcore band Throwdown from Orange County CA is a different band, formed around the same time. 2. There is no connection with the Birmingham UK hardcore scene known as SCHC (Second City Hardcore).
Sources, further reading: 1. The band's now defunct website which had an account of the band's formation and activity. They still have a Facebook page which is mainly inactive, although there were a couple of posts in 2021 and it is still moderated. 2. Throwdown discography at Discogs.com. 3. Chris Spencer et al Who's Who of Australian Rock (2002).
Thanks to Kyle from Throwdown SCHC for some additional details. Hope I got it right.
---
Frank Hardy - Sydney Town [lyrics] (1964)
As outlined above, Frank Hardy showed these lyrics to Gary Shearston who reworked them and eventually released his well-known recording of Sydney Town.
Presumably in response to Shearston's performances of the song, Hardy published the lyrics in Australian Tradition in 1964 with this footnote: This is the original version of Sydney Town as written by me. Folk singers and others who add new verses and variations do so at their own risk. Frank Hardy.
Source: Full lyrics at Union Songs.
---
Unknown calypso artist - Unknown calypso song (Kingston Town?)
According to the liner notes to Gary Shearston's album Australian Broadside, Frank Hardy owned a recording by a calypso singer, about the white "aristocrats" who tried to keep him down where he belonged – in the slums of Kingston Town.
I haven't been able to identify the singer or the song. I'd be surprised if it didn't originate in Jamaica. Searches tend to throw up results for Harry Belafonte's Jamaica Farewell (I had to leave a little girl in Kingston town) or UB40's Kingston Town (originally by King Creator), neither of which is any help.
It would qualify as the absolute original of Sydney Town, unless it owes something to an even earlier song (always a possibility).