Gary Shearston - I Get A Kick Out Of You (1974)
Single on Charisma, from the album Dingo, recorded in London by Gary Shearston (1939-2013), Australian singer, songwriter, novelist, actor, TV host and sometime puppeteer.
Shearston was born in Inverell NSW but until he was 11, and again in his later years, he lived on his family's property near Tenterfield NSW where he died in 2013.
He was a dedicated contributor to the Australian Folk Boom of the 60s, both musically and politically, but he also took on elements of jazz and rock. Later in life, he became an Anglican priest in regional New South Wales parishes.
This was a version for its time: laidback, informal vocals over strumming and drumming. Zbig Nowara and Howlspace both call Shearston's delivery "deadpan", which is about right.
Phil Chapman, who worked on the production side of the album, recalls:
Other charting Gary Shearston singles:
• Sydney Town (Frank Hardy-Gary Shearston) was Shearston's first charting single (#9 Sydney, #36 Brisbane), from his 1965 album Australian Broadside. A version by Rolf Harris co-charted in Sydney.
For the full story see Gary Shearston – Sydney Town at this site.
• Sometime Lovin' (Shearston) charted in Sydney (#38) and was a track on Gary Shearston Sings His Songs (1966) [Listen at YouTube].
It was also recorded by Doug Ashdown (1966, on The Real Thing) and by Col Nolan Soul Syndicate (1966, on Crazy Crotchet).
Sources, further reading: 1. GaryShearston.com 2. The Gary Shearston Story by Zbig Nowara covers Shearston's wide-ranging career and puts his work in the context of an under-appreciated Australian folk scene. 3. Howlspace's Gary Shearston page [archived].
---
Ethel Merman & William Gaxton [in 'Anything Goes'] - I Get A Kick Out Of You (1934)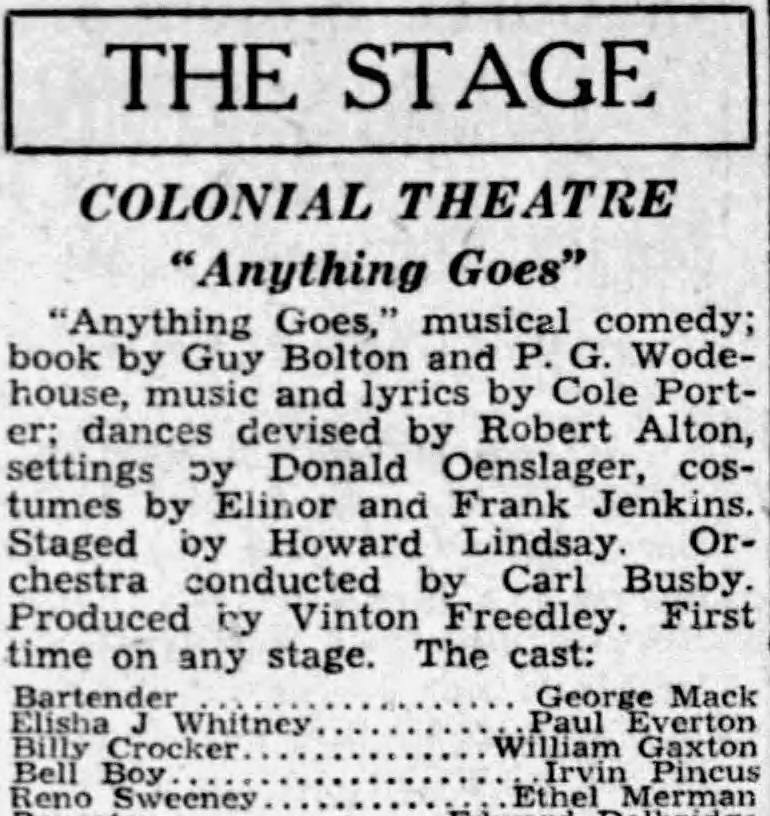 First performed in Boston 5 November 1934 on the opening night of Anything Goes at the Colonial Theatre. It was sung in Act 1 by Ethel Merman and Billy Gaxton, as Reno Sweeney and Billy Crocker.
After its preliminary run in Boston the musical opened in New York on 21 November 1934 at the Alvin Theatre, 52nd Street, now the Neil Simon Theatre.
Anything Goes was written by Guy Bolton, P.G. Wodehouse, Howard Lindsay and Russel Crouse, with songs by Cole Porter.
This is a much recorded song. Over 40 recordings are listed at The Originals, from Paul Whiteman (1934), through Frank Sinatra (1953) to Tony Bennett & Lady Gaga (2021). That is just a moderate (and digestible) selection, as SecondHandSongs was up to 367 last time I looked.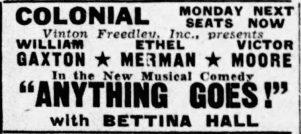 As the Wikipedia article points out, the line I get a kick from cocaine has been controversial at times, and has sometimes been written out of the lyrics.
---
↓ This recording by Ethel Merman with Johnny Green And His Orchestra was recorded in December 1934 and was probably released in 1935.
---
Paul Whiteman And His Orchestra - I Get A Kick Out Of You (1934)
Vocal refrain Ramona (label). This is singer-pianist Ramona Davies (1909-1972).
78 rpm disc on Victor. This appears to be the first recording of the song, in October 1934, and it is almost certainly the first release. Another early recording was by Leo Reisman And His Orchestra,
Paul Whiteman(1890-1967) was a popular bandleader and composer who flourished in the 1920s and 30s. He embraced a range of genres, so it is not surprising that he introduced Gershwin's Rhapsody In Blue, in concert in 1924.
• Timeline:
5 November 1934 First performance of Anything Goes in Boston [Boston Globe, 1-6 November 1934].
26 October 1934: Paul Whiteman records I Get A Kick Out Of You [label discography at 78discography.com].
19 November 1934: Release of Whiteman's record [according to SecondhandSongs; no source].
21 November 1934: Opening of Anything Goes in New York [Internet Broadway Database and 1934 NY press].
4 December 1934 Ethel Merman records I Get A Kick Out Of You [label discography at 78discography.com].
Covers.Info and The Originals also place Whiteman's record in 1934. The July 1935 release at 45worlds is British.