Single on HMV (NZ), peaked on the New Zealand charts in September 1967. His previous single Opportunity had also reached #1, in June 1967. Both songs were later released on one Columbia 45 in Australia (1968). See also: Why Or Where Or When.
One of six New Zealand hits 1967-68 by popular New Zealand singer and TV star, real name Bogdan Kominowski (b.1945). He charted highly in NZ: they went 1, 1, 2, 1, 5, 6.
Adopting Mr to avoid confusion with an actress of the same name, Lee Grant became a pop superstar in New Zealand largely through his residency on the TV show C'mon 67. In 1968 he went to the UK, where he recorded some singles as Lee Grant (and one under his real name), but he eventually concentrated on acting. As Bogdan Kominowski he has been seen on stage (Phantom of the Opera), on TV (he had a continuing role in Brushstrokes) and in films (A View to Kill, Jack Ryan:Shadow Recruit): see his filmography at IMDb
Further reading: "Mr Lee Grant's Opportunity to Wed", The New Zealand Herald, 26 May 2013 (Thanks to Terry Stacey)
Bobby Hanna - Thanks To You (1967)
Single on Decca, released April 1967. The writer credit on the single is to "Van Dyke". Also on the album The World of Bobby Hanna.
Bobby Hanna – real name Bobby Faulds – was a Scottish-born Canadian singer who fronted a successful British Columbian band,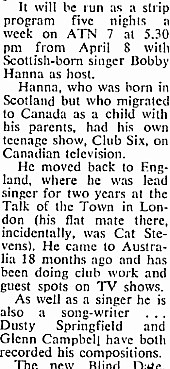 Bobby Faulds & The Strangers (later known as The Canadian Strangers) before going solo and moving back to the UK. He sang at major venues in London and released a number of singles on Decca and Philips 1967-1971.
Hanna married an Australian and moved to Australia where he hosted Channel 7's revival of Blind Date in 1974.
Image: News of "Blind Date" with Bobby Hanna, Sydney Morning Herald, 24 March 1974 [source].
British songwriter, singer and film composer Les Vandyke (b. Yani Skoradalides, 1931) also used the names John Skoradalides, Johnny Worth and John Worsley. He wrote many well-known songs of the 60s and 70s including significant hits for Adam Faith (What Do You Want, Poor Me) and Eden Kane (Well I Ask You, Forget Me Not). Ex-Shadows Jet Harris & Tony Meehan had a UK hit with his Applejack (1963, #4 UK).
See also Little Pattie's hit Dance Puppet Dance, and The Flies' Doin' The Mod, both Les Vandyke compositions recorded in Australia.
Further reading: 1. David St John's Bobby Hanna page is packed with information, images and personal anecdotes. 2. Bobby Faulds & The Strangers and Canadian Strangers pages at Pacific Northwest Bands. The Canadian Strangers page has a story from Bobby Faulds. 3. Live Victoria's Canadian Strangers page. 4. Les Vandyke biography by Bruce Eder at All Music.