Bryan Davies - Slicin' Sand Twist (1962)
B-side on His Master's Voice January 1962 by popular singer, TV host, actor and cabaret artist born 1944 in Manchester UK, in Australia since early childhood.
The lyrics of the Tepper-Bennett composition have been tweaked to accommodate the latest dance craze.
Co-charted with the A-side Twist-N-Twirlin', an Australian composition by Joe Halford and Jay Justin, the writers of Little Pattie's 1963 hit He's My Blonde-Headed Stompie-Wompie Real Gone Surfer Boy (1963). Twist-N-Twirlin' also charted #22 Brisbane and #21 Adelaide.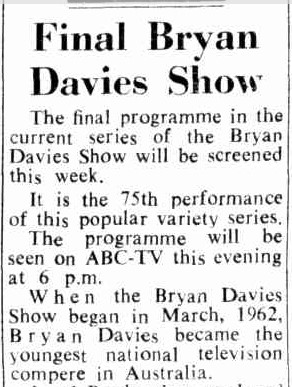 The recording career of Bryan Davies came after TV appearances on ATN7's Teen Time and other local pop shows. His best chart runs were in Sydney where he had eight charting singles 1961-67.
During a sojourn in London he worked with EMI producer and conductor Norrie Paramor, best known for his work with Cliff Richard & The Shadows. When Davies returned to Australia he had dropped his early-60s teen idol image in favour of a Beatles hairdo and mod gear.
Around the country, his chart highlights included
• Dream Girl (1961, #2 Sydney, #4 Melbourne, #6 Brisbane, #1 Adelaide, his biggest hit, covering Mark Wynter),
• Five Foot Two (1961, #5 Sydney, #10 Adelaide, #10 Brisbane
• Ten Pin Bowling (1962, #23 Sydney, #19 Adelaide)
• I Don't Like To Be Alone (1964, #21 Sydney, #19 Brisbane, #3 Perth; recorded in London)
• Tell The Other Guy (1965, #20 Sydney, #46 Melbourne, #34 Adelaide, #19 Brisbane; Barry Gibb composition)
• Alberta (1967, #15 Sydney, #18 Brisbane, #11 Adelaide, covering Murray Head).
See also Raincoat In The River (recorded in London, arranged & conducted by Norrie Paramor).
Further reading: 1. "Mother Helped Bryan to Stardom", Sydney Morning Herald, 18 Dec 1961. 2. The Bryan Davies article at Wikipedia includes numerous useful links to sources..
Suggestion de Philippe, merci.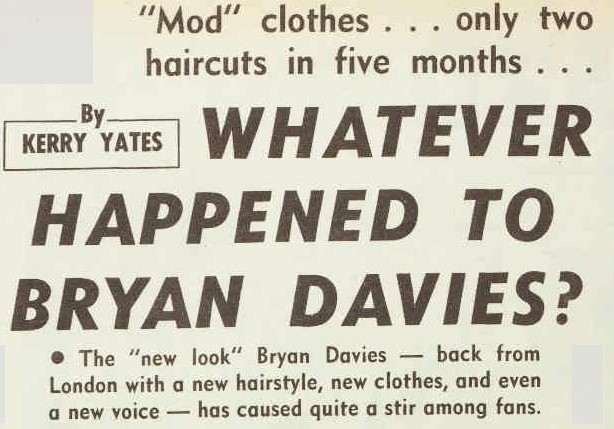 ---
Les Rockers - Sème Le Grain (Slicin' Sand) (1962)
On Windsor EP Madison et Twist July 1962 by band from Yerres in the suburbs of southeastern Paris. As the liner notes point out, the ages of the five band members upon formation added up to 85, or an average of 17.
The line-up (disregarding replacements when some members were away on military service):
• Dan Lee Styve vocals (joined last, in time for first EP, b. Daniel Gosselin, Lee from Jerry Lee Lewis, Styve for a trendy clothes store)
• Claude Moreau (lead guitar)
• Joël Jourdan (rhythm)
• Michel 'Mick' Demiautte (bass)
• Bernard 'Bob' Sansiquet (drums)
French lyrics are by Jacques-Élie Moreau also known as Jacques Moreau. On the same EP is Premier Amour, Moreau's adaptation of Elvis's song Don't Leave Me Now from Jailhouse Rock, already performed live by Johnny Hallyday in 1960 (see Track 4-5 here). This actor could be our Moreau in a 1952 film.
In the first decade of the 2000s Dan, Joël and Bernard formed Le Rocker's Blues Band, joined by two new recruits. The band's site was still listing gigs into 2023.
Further reading: 1. The Rockers' website at lesrockers.fr has historical content plus news of the group and its members in the 21st century. 2. Dan Lee Styve biography and images. 3. Lyrics of Jacques-Élie Moreau listed at Bibliothèque nationale de France.
---
Cette section a été rédigée avec la participation de Philippe Edouard.
---
Elvis Presley - Slicin' Sand (1961)
On RCA soundtrack album Blue Hawaii October 1961. The film was released in the US on 22 November 1961.
---
Sid Tepper and Roy C. Bennett were prolific US songwriters whose partnership lasted from 1945 until 1970. They wrote many songs for Elvis Presley films, and British pop star Cliff Richard had hits with their Travelin' Light (1959, #1 UK), When the Girl in Your Arms Is the Girl in Your Heart (1961 #2 UK), and The Young Ones (1962, #1 UK). The last two songs were also big hits in Australia.
I haven't counted them, but sources say they had 45 songs in Elvis films, and 15 on Cliff's records, which is probably right (see here and here).
Elvis sang the Tepper-Bennett song Angel in Follow That Dream (1962), and Cliff's version (1965) was a hit in Australia (#6 Melbourne, #9 Sydney, #4 Brisbane, #8 Adelaide, #3 Perth). Judy Stone charted in Australia with her version of Tepper & Bennett's I'll Step Down.
Some other well-known Tepper-Bennett compositions (Billboard chart peaks):
• The Naughty Lady of Shady Lane (The Ames Brothers 1955, #3, Archie Bleyer 1955, #17)
• Kewpie Doll (Perry Como 1958, #6)
• When the Boy in Your Arms Is the Boy in Your Heart (Connie Francis 1961, #10)
• Red Roses for a Blue Lady (Vic Dana 1965, #10, Bert Kaempfert 1965, #11, Wayne Newton 1965, #23).
Further reading: 1. The Tepper & Bennett website includes a list of songs and other resources. 2. Sid Tepper obituary from The Guardian.