Single on Festival label.
Charted in Adelaide in '63.
Dig Richards (1941-1983): prolific and versatile Australian rock and pop star in the charts from 1959 and into the 70s when he favoured a country style. See Digby Richards page at Howlspace (archived).
Later known as Digby Richards (see below).
After parting with Dig Richards, The R'jays became The Rajahs: more details at Kiss Me Now.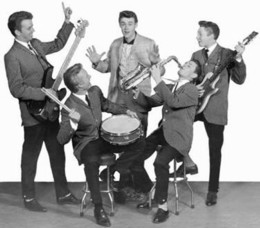 Photo from Behind The Rock, with thanks to the copyright-holders.
Suggestion from John Yeager.
---
Sammy Turner - Raincoat In The River (1961)
Single on Big Top label, B-side of Falling.
Sammy Turner had his greatest success with revivals of pop standards. He is best known for Lavender-Blue (#3 USA, also charted in Sydney, Melbourne & Brisbane) and Always (charted in USA, UK, Brisbane & Adelaide). See biography at Oldies.com.
Produced by Phil Spector. (The A-side was written & produced by Leiber & Stoller.)
See label shot at The Phil Spector Record Label Gallery.
Thanks to Tony Watson.
---
---
Digby Richards - Raincoat In The River (1975)
Artist formerly known as Dig Richards (see above).
Single on RCA label, also on the 1975 album Collection.
---
William Parker & The Little Huey Creative Music Orchestra - Five Rivers Into One Teardrop: Raincoat In The River (2002)

Apparently unconnected with the Schroeder-Kaye song "Raincoat In The River".
From the album Raincoat in the River, Vol. 1: Ica Concert by free jazz bassist, composer and band leader William Parker.
More at WilliamParker.net.
---
Bryan Davies - Raincoat In The River (1964)
Single on Columbia, recorded in London with EMI producer and conductor Norrie Paramor, best known for his work with Cliff Richard and The Shadows.
Another track from these sessions, Tell The Other Guy (1964), charted in Australia (#21 Sydney, #19 Brisbane).
Thanks to Wayne Kitchener for version alert.