Single on His Master's Voice, the biggest hit by popular singer, TV host, actor and cabaret artist born 1944 in Manchester UK, in Australia since early childhood.
Co-charted in Sydney, Melbourne and Adelaide with Mark Wynter's original version.
The recording career of Bryan Davies came after initial TV appearances on ATN7's Teen Time and other local pop shows. His best chart runs were in Sydney where he had eight charting singles 1961-67.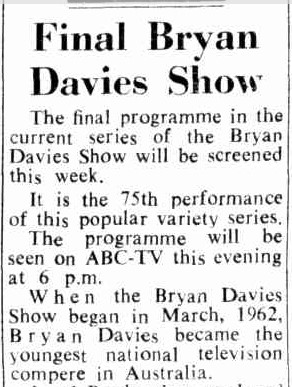 During a sojourn in London he worked with EMI producer and conductor Norrie Paramor, best known for his work with Cliff Richard & The Shadows. When Davies returned to Australia he had dropped his early-60s teen idol image in favour of a Beatles hairdo and mod gear.
Around the country, his other chart highlights included
• Five Foot Two (1961, #5 Sydney, #10 Adelaide, #10 Brisbane)
• Ten Pin Bowling (1962, #23 Sydney, #19 Adelaide)
• Twist-N-Twirlin (1962, #27 Sydney, #22 Brisbane, #21 Adelaide; original by Joe Halford and Jay Justin, writers of Little Pattie's 1963 hit He's My Blonde-Headed Stompie-Wompie Real Gone Surfer Boy)
• Slicin' Sand Twist (1962, #27 Sydney, covering Elvis Presley with twist lyrics, B-side of Twist-N-Twirlin', co-charted.)
• I Don't Like To Be Alone (1964, #21 Sydney, #19 Brisbane, #3 Perth; recorded in London)
• Tell The Other Guy (1965, #20 Sydney, #46 Melbourne, #34 Adelaide, #19 Brisbane; Barry Gibb composition)
• Alberta (1967, #15 Sydney, #18 Brisbane, #11 Adelaide, covering Murray Head).
See also Raincoat In The River (recorded in London, arranged & conducted by Norrie Paramor).
Further reading: 1. "Mother Helped Bryan to Stardom", Sydney Morning Herald, 18 Dec 1961. 2. The Bryan Davies article at Wikipedia includes numerous useful links to sources.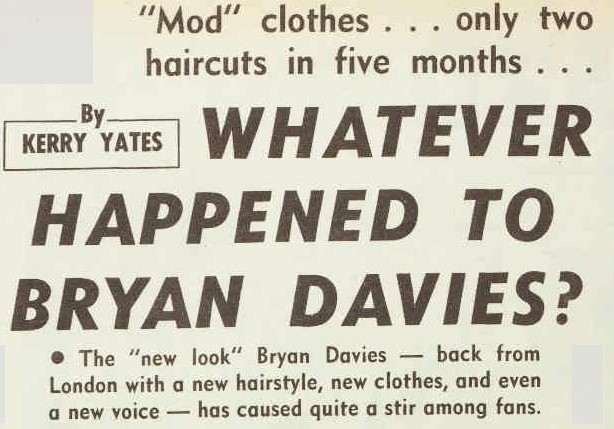 Mark Wynter - Dream Girl (1961)
Co-charted in Melbourne and Adelaide with Australian cover version by Bryan Davies, and charted singly in Brisbane and Perth.
Single on Decca by British pop singer in the early 60s teen idol style (Terry Lewis, b.1943).
Dream Girl is an original British composition, but Wynter's two biggest hits were covers of American tracks:
• Venus In Blue Jeans (1962, #4 UK covering US #7 hit by Jimmy Clanton, originally by Bruce Bruno) and
• Go Away Little Girl (1962, #6 UK, covering Bobby Vee's original album track; Wynter's version and Steve Lawrence's #1 US hit were both released in Dec '62).
Wynter later had a successful acting career on stage and screen that covered a variety of genres including Shakespeare, stage musicals and films.
---
Dream Girl was written by regular British collaborators Bill Crompton from Bolton and Welshman Morgan Jones.
Crompton, the lyricist, was a singer and former interior decorator, and Jones was a former secondary schoolteacher who was working as a pianist and entertainer. They wrote Craig Douglas's Heart Of A Teenage Girl (1960, #10 UK) and The Stranger, well known to Shadows fans as the B-side of Man Of Mystery and a regular inclusion on Shadows compilations. They wrote at least two other songs recorded by Mark Wynter: That's What I Thought (1960) and The Best Time For Love (1961).
An excellent tribute site for Morgan Jones, compiled by Roger Hayman, tells his biography in detail with many illustrations and a discography of compositions. In brief, Jones (1929-1988) taught Maths, English, PE and Music before taking up music full-time in Les Thorpe's Orchestra in Aberdeen around 1954. When he teamed up with Bill Crompton in the late 1950s he had already recorded and performed as Thunderclap Jones, appearing on radio and touring with major variety shows. In 1966, while continuing to perform in London venues, he formed Morgan Jones Arrangements and Music Services, arranging and recording demos for other musicians.
---
Further reading: 1. MarkWynter.com has comprehensive illustrated biographical pages. By comparison, the Wikipedia entry on Wynter is a brief but worthy outline. 2. Roger Hayman's Morgan Jones website. 3. "Decorator + Schoolmaster = Top Song Team", New Musical Express, 17 November 1961, p.9 is an account of the composing and performing careers of Crompton and Jones up until that date: read at World Radio History. (Some details may be inaccurate in retrospect.)