Single on Leedon, Booka Hyland's third and final, "with orchestra and chorus directed by Eddie Cash Jr", an alias of Hyland's mentor Johnny O'Keefe who produced the record.
Booka Hyland (b. John, c.1940) was an established pub singer when he was heard by Warren Williams and his band who urged him to contact Johnny O'Keefe. He ended up as a regular on O'Keefe's TV show Six O'Clock Rock and joined O'Keefe on tour.
Hyland released a handful of singles, only one of which charted, the John Marascalco–Scott Turnbull song Sweet Thing (1960, #33 Sydney). His second single, We've Got Something Going (1960) was another John Marascalco composition. He also released a four-track EP, Booka At The Police Boys Club, featuring the three A-sides plus a B-side. See also I Dig Girls, the B-side of Sweet Thing.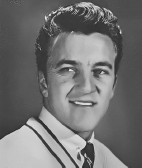 At this time O'Keefe was an active A&R man and producer for the Lee Gordon and Leedon labels. He often used the name Eddie Cash Jr because, as he put it, I think the disc jockeys got a bit sick and tired of hearing my name all the time [quoted in The Wild One, see below]. The "Eddie Cash" vocalists and musicians covered a studio roster that included many well-known Sydney performers.
"Booka" was a childhood nickname. Until his first record showed his surname, Johnny O'Keefe had billed him simply as Booka.
References: 1. Booka Hyland tells his story in a YouTube interview posted by Sallie6. 2. Damian Johnstone, The Wild One, 2001, on O'Keefe's role at Leedon. Johnstone also mentions Hyland several times and includes his reminiscences about his days with O'Keefe.
---
Armando - Transistor (1960)
Listen at YouTube.

Armando's full name is Armando Pizzi Jr (born 1940), as shown in the composer credit for the B-side Wonderful Time Of The Year. This appears to be his only release. His father Armando Pizzi Sr was a notable Chicago accordionist and teacher of the instrument.

This appears to be the songwriter Armando C. Pizzi Jr (b. 1940✓). From 1960 he copyrighted numerous works including at least nine songs written with Chicago lyricist Helen M. Wilki (married name Korecki). At US Copyright Office Armando C. has 39 songs registered including several collaborations with Nick Mancini (1981-85; not this one), Jim McParland (1994-97). and Linda Pizzi (1995-1997), with collaboration on one song each by Terry Roark, Joey Weiz and Philomena McParland. Five compositions are registered to him at BMI, including three not listed at US Copyright Office.
In spite of this output, Wonderful Time Of The Year (Transistor's B-side) is the only recording of an Armando Pizzi composition to be found at such discographical resources as 45 cat or discogs.com. Perhaps they were heard in live performance.
---
Co-writer of Transistor Dick Wolf (also cited as Wolfe) was a prolific songwriter, A&R man and producer. With his frequent collaborator Randy Starr (b. Warren Nadel) he wrote Jackie Wilson's Right Now, covered in Australia by Johnny O'Keefe. Randy Starr's own After School (1957, #32 USA) was written by Wolf and Starr, and they are also credited as composers on George Hamilton IV's version of the traditional song I Know Where I'm Going (1958, #43 USA, #23 UK).
When he was A&R man at Kapp Records Wolf produced Bryan Hyland (no relation to Booka), including on his Itsy Bitsy Teeny Weeny Yellow Polka Dot Bikini (1961, #1 USA).
Songwriter Irwin Schuster, who died in 1984, was a senior executive with major music publishers Screen Gems, Trinity Music and Chappell Music.
Thanks to Tony Watson.
Further reading: For more on Dick Wolf and his collaborator Randy Starr–Warren Nadel, see under Johnny O'Keefe's Right Now (1961).
---
Freddy Cannon - Transistor Sister (1960)
Similar material but not the same song as
'Transistor' by Booka Hyland.

Single on Swan. The theme is similar: a young woman is obsessed with her transistor radio.

OTHER TRANSISTOR SONGS:
Benny Hill – Transistor Radio (Benny Hill- Mark Anthony)
UK 1961, #24 UK #29 Adelaide Single on Pye by British TV comedian. "Mark Anthony" = Tony Hatch, also used for the Bobby Rydell release Forget Him.
Frankie Jordan – Le transistor (Mario Filip – Eddie Vartan)
France 1961 On French Decca EP Elle est passée YouTube.