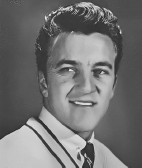 Single on Lee Gordon, B-side of Sweet Thing (#33 Sydney), "with orchestra and chorus directed by Eddie Cash Jr", an alias of Hyland's mentor Johnny O'Keefe who produced the record.
This Aussie version keeps the US lyrics pretty much intact: Booka also digs girls that come from from Tennessee, New York, Chicago… The Tallahassee lassies or the Sioux City Sues.
For more details on Booka Hyland and his connection with Johnny O'Keefe, see my pages about his singles, Sweet Thing and Transistor. See also We've Got Something Going.

Bobby Rydell - I Dig Girls (1959)
Single on Cameo, B-side of We Got Love (#6 USA) by teen idol who had eighteen Billboard Top 40 hits from August 1959 to December 1963: by then, the British Invasion was changing the concept of a teen idol. Rydell had four Top 5 hits: Wild One (1960, #2 USA; not the Johnny O'Keefe song), Swingin' School (1960, #5), Volare (1960, #4, a remake of the 1958 hit), and Forget Him (1963, #4, written by Briton Tony Hatch).
On CD: click on the album cover.