Booka Hyland - We've Got Something Going (1960)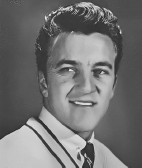 Single on Lee Gordon, the second by Sydney singer and Six O'Clock Rock regular Booka Hyland, "with orchestra and chorus directed by Eddie Cash Jr", an alias of Hyland's mentor Johnny O'Keefe who produced the record.
Hyland's first single, Sweet Thing (1960, #33 Sydney), was another John Marascalco composition, written with Scott Turnbull, co-writer of Johnny O'Keefe's hit She's My Baby. Marascalco & Turnbull also wrote O'Keefe's Don't You Know (Pretty Baby) (1960).
For more details on Booka Hyland and his connection with Johnny O'Keefe, see my pages about his other singles, Sweet Thing and Transistor.
Art Wheeler - We've Got Something Going (1959)
Single on Sabrina, B-side of The Plea, by obscure soul artist who "worked on and off all his career" with John Marascalco. Wheeler's records appeared intermittently on various labels from 1959 to 1982 but little is known about him.
Other John Marascalco co-compositions recorded in Australia or NZ include Sweet Thing (Booka Hyland), Don't You Know (Pretty Baby) (Johnny O'Keefe), Starlight Starbright (Lonnie Lee), and Opportunity (Mr Lee Grant).
References: Above quote is from the excellent Art Wheeler page at Sir Shambling's Deep Soul Heaven.