Colleen Hewett - Dreaming My Dreams With You (1979)
Released late 1979, charted early 1980.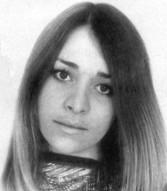 Colleen Hewett (b.1950) came from Bendigo in regional Victoria. Starting as a pop singer with local bands, she later branched out into acting and entertaining on stage, screen and radio. In the early 70s, for example, she was in the Australian cast of Godspell and recorded a hit version of Day By Day from that musical. More recently, she played Peter Allen's mother on stage in The Boy From Oz, starring Hugh Jackman.
Further reading: filmography and biography at IMdB.

Feature suggested by Tanya.
---
Waylon Jennings - Dreaming My Dreams With You (1974)
On 1974 RCA album Dreaming My Dreams With You, also a single, by highly regarded country singer-guitarist (1937-2002) who toured in Buddy Holly's band in 1959 and famously gave up a seat on the ill-fated plane. An associate of Johnny Cash (Waylon's son Shooter played his dad in Walk The Line), in the 80s he collaborated with Cash, Willie Nelson, and Kris Kristofferson as The Highwaymen.
---
Dreaming My Dreams With You was written by Allen Reynolds (b. 1938), songwriter, producer, publisher and studio owner, who initially made his mark writing songs with college pal Dickey Lee, including Lee's 1963 hit I Saw Linda Yesterday.

Allen Reynolds wrote The Vogues' 1965 hit Five O'Clock World, used to good effect in the TV series The Drew Carey Show from 1995. He also recorded the original version of Through The Eyes Of Love, a hit in Australia for Bobbie & Laurie.
From 1970 Reynolds produced numerous country artists in Nashville, including Crystal Gayle, Emmylou Harris and Garth Brooks.
---
References: Allen Reynolds page at the Nashville Songwriters Foundation Hall of Fame; Wikipedia entry on Waylon Jennings; song history at The Originals.
---
Crystal Gayle - Dreaming My Dreams With You (1975)
On 1975 United Artists album Somebody Loves You by country singer born Brenda Gail Webb in 1951, the younger sister of country legend Loretta Lynn.
Initially signed to Decca, her sister's label, Crystal Gayle's career flourished at United Artists from 1974 under producer Allen Reynolds, who encouraged her to record her breakthrough crossover hit Don't It Make Your Brown Eyes Blue (1977, #2 USA).

Reference: Crystal Gayle biography and discography at Petr Vitous's country LP discography site.
---
Marianne Faithfull - Dreaming My Dreams (1977)
Topped the Irish charts. Alternative title for Dreaming My Dreams With You.
Further reading: discography and biography at MarianneFaithfull.org.uk
---
Cowboy Junkies - Dreaming My Dreams With You (1988)
Canadian band with eclectic influences including blues, folk and rock. On The Trinity Session, 1988, recorded one day in November 1987 at Holy Trinity church, Toronto.
---
Alison Krauss - Dreaming My Dreams With You (1999)
On 1999 album Forget About It, the seventh by violinist, vocalist, producer and alt.country favourite with a bluegrass background.