Zonk! - Heya (1970)
Single on HMV June 1970. Also released in the US on United Artists single.
Vocals are by singer and songwriter Shane Hales, also known simply as Shane: see his biggest hit single Saint Paul (1969, #1 NZ).
Zonk! was a studio band assembled for the single by Shane and producer Peter Dawkins.
Grant Gillanders at AudioCulture lists the personnel as Bruce "Phantom" Robinson (guitar), Rick White (ex-Tom Thumb, bass), Rufus Rehu and Bruno Lawrence (from Quincy Conserve, keyboards and drums), with backing vocals by Craig Scott, Alan Galbraith and "various HMV staff members".
*Label credits only Light as writer.
Reference, further reading: Audioculture's page on the Zonk! project probably has more than you'll find anywhere else. See also that site's Shane profile and gallery .
---
J. J. Light - Heya (1969)
Single on Liberty March 1969, produced by Robert Markley. Also on Liberty album Heya (1969, released in Germany but not in the US).
J. J. Light is a pseudonym of singer-songwriter-guitarist-keyboardist, Jim Stallings (b.1942, aka Jimmy or James). On another single on Beegee (1973) he is billed as James Michael Stallings (a.k.a. J.J. Light).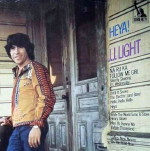 Heya reflects the Navajo or Diné heritage of Stallings. As a teenager he moved from his hometown of Farmington, New Mexico, to Los Angeles, where he followed a musical career for over 40 years, playing in bands that included Sir Douglas Quintet, Ruben Rodriguez & His Guadalajara Kings, and The Forerunners.
In 1959, aged 17, he wrote and recorded his first single I Played The Fool, billed as Jimmy Stallings on Paxley, the Hollywood label formed by Kim Fowley and Gary Paxton.
Jim Stallings is now based in Albuquerque NM and has continued to perform and release new albums of country, blues and Christian music (2020).
Stallings played bass in later line-ups of 60s band Sir Douglas Quintet, led by Doug Sahm (1941-1999), composer of She's About A Mover (1965) and Mendocino (1968). Stallings certainly joined in time to be credited on bass on their 1971 album The Return Of Doug Saldaña.
Although he is not credited in the liner notes, some sources place him with the band as early as Mendocino (1969 album), and Stallings himself has said recently that he "joined them on Mendocino" (October 1968 single).
After Doug Sahm left, Stallings stayed on to record with other remaining members as The Quintet on Future Tense (1971) which includes a version of Heya (see below).
References, further reading: 1. The Legend of Jimmy Stallings, interview and background at Alibi.com (2019). 2. The Jim Stallings interview at Cultmachine.com has a lot of background about the recording of 'Heya', and about his life and work right up to recent years. 3. KUNM Studio Sessions: Jimmy Stallings interview and performance with drummer Jeremy Barnes (2019), at YouTube. 4. Jimmy Stallings albums, including releases up to 2019, at Bandcamp.
Notes on writer credits:
* The label credits only Light as writer.
• US Copyright Office shows music by James Stallings, words by Bob Markley.
• BMI also has both Stallings and Markley (Work ID. 563859).
• Stallings has said: Bob Markley was my producer and also half-writer of all the songs on both records of the double-album "Heya" (Interview at Cultmachine.com).
Of 12 versions of Heya listed on this page, 6 credit Markley as co-writer and 6 do not. (There is no consistency across English and non-English versions.)
---
Jeronimo - Heya (1969)
Single on Admiral YouTube, the most successful by German progressive rock band, November 1969. Charted in South Africa May 1970.
Jeronimo broke up in 1972 but in 1982 the founding members – Rainer Marz, Gunnar Schäfer and Ringo Funk – recorded Heya again and released it on a CBS single.
Reference: Jeronimo at de.wikipedia.org.
---
---
---
The Freddies - Heya (1970)
B-side on Polydor YouTube by Dutch trio, Peter Koelewijn, Fred Haayen and Willem van Kooten, "three of Holland's most influential people in the music business", as Discogs.com explains.
*Label credits only Light as writer.
Also released on Metronome in Germany.
---
Outkast - Hey Ya (2003)

SIMILAR TITLE BUT NOT THE SAME SONG AS 'HEYA' BY ZONK!
Single on Arista by hip hop duo from Georgia (one of them is composer Benjamin).YouTube
---
---
---
James Last - Heya (1970)
Track on Polydor album Golden Non Stop Dancing 10, YouTube the tenth in a series of albums by German bandleader (1929-2015), beginning with Non Stop Dancing '65. Heya kicks off a medley with Dave, Dozy, Beaky, Mick & Tich's Tonight Today and Grapefruit's Deep Water. It's hard to see who was in the audience for these unhip orchestra-and-chorus arrangements of current hits. There must have been a lot of them because the series went on for about 30 albums.
---
---
The Quintet - Heya, Heya (1977)
Track on album Future Tense with the song's co-composer Jim Stallings (aka J.J. Light) on vocals, guitar and bass.
The Quintet was made up of members of Sir Douglas Quintet after leader Doug Sahm had left.
The line-up for the album was Jim Stallings (bass, guitar, vocals), John R. Perez (drums, vocals), Augie Meyers (piano, organ, twelve-string guitar), Frank Morin (saxophone, flute, harp, vocals) – all from Sir Douglas Quintet – with Byron Farlow (guitar, vocals) and guests Martin Fierro (saxophone, flute, percussion) and Luis Gasca (trumpet).
Further reading: Cash Box review of a 1971 concert where The Quintet and Sir Douglas (Doug Sahm) both appeared as separate acts. Jimmy Stallings played bass and shared lead vocals. (Facsimile in .pdf format, via American Radio History.)
---
Brosch - Heya (1989)
Track on EP Heya on Constrictor by alternative/indie rock group with vocalist Wolfgang Brosch. YouTube
German lyrics are by singer-songwriter-producer Michael Holm (b. 1943, Lothar Bernhard Walter). They are presumably those recorded by Adriano Celentano in 1970 (see above).
*Label credits Light and Holm as writers.
---