Single on Go!!, November 1965, B-side of Little People.
Yvonne Barrett (1946-1985) : popular Melbourne-based singer, originally from Perth, often seen on national TV pop shows in the late 60s and early 70s.
Five versions of this peaked in Sydney simultaneously at #3 in November 1965, according to Gavin Ryan's Sydney chart book.
Further reading: 1. Yvonne Barrett biography and discography by Michael Robbins at Milesago. 2. Yvonne Barrett entry at Wikipedia.
Thanks to Mike Robbins and Terry Stacey.
---
Col Joye - You're The One (1965)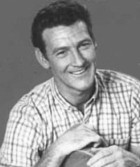 Single on Festival, October 1965.
Col Joye was a pioneering Aussie pop star of the rock'n'roll era (b. Colin Jacobsen, 1937) who in 1957 joined his brother Kevin's jazz band that was to become Col Joye and the Joy Boys. He had ten Top 10 hits in the Sydney charts alone from May 1959 to May 1962, including four #1s, and was a star on television pop show Bandstand. Something of a legend in Australia, his rock'n'roll suit is on display at Sydney's Powerhouse Museum.
Further reading: See, for example, the Col Joye bio at AllMusic.
---
---
---
Petula Clark - You're The One (1965)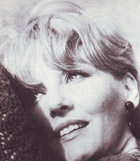 Single on Pye (UK) and Vogue (Europe).
French songwriter Georges Aber collaborated with Clark and Hatch on many other songs, including Heart, covered in Australia by Lynne Randell.
Also released in French by Petula Clark, as Un mal pour un bien (1966).
References: 1. Tony Hatch song list [archived page]. 2. 1964-1960 vinyl discography at PetulaClark.net.
Further reading: For more about Tony Hatch see One In A Million (Bev Harrell) at this site.
Merci à Gareth Jones de me signaler la version française.
---
Kathy Kirby - You're The One (1963)

SAME TITLE BUT NOT THE SAME SONG AS
'YOU'RE THE ONE' BY YVONNE BARRETT.
Single on Decca by English singing star best known for her 1963 hits Dance On (#11 UK) and Secret Love (#4). This track is based on a 1930s Mexican song La Malagueña or Malagueñ Salerosa, usually attributed to Elpidio Ramírez and Pedro Galindo. (Attribution is discussed in the song's Wikipedia article. See also the versions listed at The Originals.) Marcel Stillman wrote the English lyrics for this variation.
Thanks to Mick Robbins for Red Herring alert.
Red Herring overload: From the 50s to the 80s, at least 100 singles were released in the USA with the title You're The One.
There are 20 pages of unique compositions entitled You're The One at BMI (title search here).