Single on Go!! The B-side, You're The One, was a #3 hit in Sydney.
Yvonne Barrett (1946-1985) : popular Melbourne-based singer, originally from Perth, often seen on national TV pop shows in the late 60s and early 70s.
Further reading: 1. Yvonne Barrett biography and discography by Michael Robbins at Milesago.
2. Yvonne Barrett entry at Wikipedia.

Suggestion and initial research by Terry Stacey.
---
Chloee Harris - Little People (1964)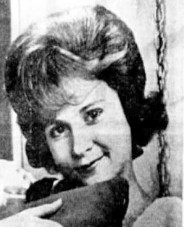 Single on Nashville label Hickory.
Chloee Harris was a 16-year-old student at Cohn High School in West Nashville when she recorded this, her first single, which was reviewed favourably in Billboard in June 1964. Later that month, Billboard reported that Chloe would be promoting her single in the UK. She released a second single on Hickory, I'm Having A Party / My Daddy Said (1965), but after that the trail seems to run cold.
---
Little People's B-side Mama, I'll Be Good was written by Jay Rainwater who was Harris's manager at this time. His co-writer on Little People was Nashville songriter Tommy Stough.
Writer credits to Rainwater and Stough are often found on the labels of Hickory, a division of the Acuff-Rose music publishing company. Tommy Stough has a repertoire of around 80 compositions at BMI,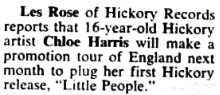 with works recorded by Candi Staton and Porter Wagoner, among others.
Buell "Jay" Rainwater was singing star Brenda Lee's step-father, having married her widowed mother in 1955. Rainwater later worked at a Cincinatti record store where young Brenda made some of her first public singing appearances. By the 1960s he was a Nashville-based songwriter, producer and music publisher. He has around 60 compositions listed at BMI.
---
References, further reading: 1. "Little Chloee Reaches For Turntable Pinnacle", The Tennessean (Nashville), May 24, 1964, p.97 2. Praguefrank at Country Discographies gives approximate session dates of October 1963 and January 1965 for the two Chloee Harris singles. 3. Some Tommy Stough and Jay Rainwater compositions listed at Discogs.com. 4. Brenda Lee biography at Songwriters Hall of Fame and feature from Cincinatti Magazine. 5. Billboard 13 June 1964 (review) and 27 June 1964 (England).

RED HERRING? A 1962 single by a Chloe Harris (one 'e') on New York mail order/song poem label Frank Records, Grandpa YouTube has a distinct country feel and could conceivably be a younger Chloee.
---
Dorinda Duncan - Little People (1965)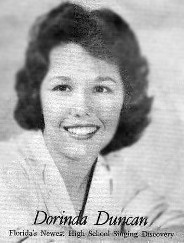 Single on Ascot, produced by Leroy Holmes, orchestra conducted by Dick Hyman.
Dorinda Duncan went solo after leaving The Briarwood Singers, a Miami folk group that recorded for United Artists and opened for The Beatles at Carnegie Hall in 1964.
She had, however, released a couple of earlier solo singles on Orlando, Florida label Glendale (1960-61), one of which billed her as Florida's Newest High School Singing Discovery.
References: 1. Dorinda Duncan and Glendale discographies at 45cat.com. 2. Briarwood Singers at Wikipedia and Discogs.com. 3. "Musician recalls opening for Beatles in 1964", Gillette News Record (Wyoming), February 8, 2014. 4. Glendale label at Rockin' Country Style.
---
Sue Powell - Little People (1971)
Single on Basic by 14-year-old Indiana singer who was encouraged to record Little People by co-writer Jay Rainwater after he heard her singing with her sister at a business convention.
The producer was Forrest E. "Buddy" Powell, Sue's father, using a home studio that he built himself. He had been recording his two daughters there since Sue was 8 years old, when their first single was pressed on Basic, a label created by Buddy Powell for that purpose.
From 1977 to 1980 Sue Powell was in country group Dave & Sugar, replacing an original member. During her time with them, Dave & Sugar had two #1 Country hits, Tear Time (1978) and Golden Tears (1979).
---
The A-side is Jay Rainwater's Mama I'll Be Good, making this a double-sided remake of Chloee Harris's 1964 single Little People / Mama I'll be Good, with the A- and B-sides reversed.
---
Further reading: 1. Sue Powell's website has a lively scrapbook history of her early years which includes meeting Jay Rainwater with her parents. Her Dave & Sugar years are also covered. 2. Wikipedia article on Dave & Sugar.