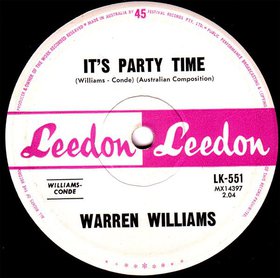 Song published by the writers' own company, Williams-Conde Music Pty Ltd, formed in 1963 by Australian singer-songwriter Warren Williams and former Festival Records musical director Franz Conde.
► For more on Conde and Williams-Conde Music see under Billy Thorpe – The Word For Today.
Image from RateYourMusic.com [link]
Further reading: AMG entry on Warren Williams.
Un grand merci a Josette Dejesus.
---
Petula Clark - Voila le temps des vacances (1964)
Cover version of the Australian song It's Party Time, with French lyrics by Petula Clark's frequent collaborator Georges Aber. (See, for example, Heart and You're The One.)
Track on EP Hello Dolly on Vogue (France) and Pye (UK).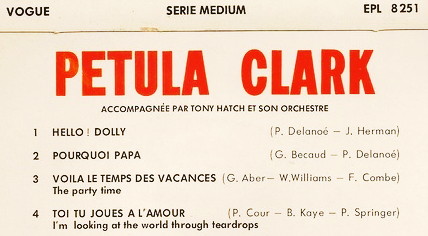 Image cropped from sleeve shot of Vogue EP at CDandLP.com [link]. Note the misspelling of Franz Conde's surname.
Further reading: Petula Clark 1963-64 discography at PetulaClark.net.
---
Burt Blanca - Voila le temps des vacances (1964)
Track on French Decca EP by Belgian rocker (b. Norbert Blancke, 1944), le pionnier du rock en Belgique (Wikipédia).
References: 1. Discography at BurtBlanca.net. 2. Burt Blanca at Wikipédia