The writer credit to Wilmot appears only on this version of this much-recorded song, so it could be an Australian contributor of additional lyrics.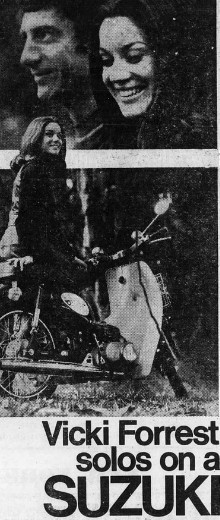 Single on His Master's Voice by popular Sydney singer (born Agnes Erdos, Hungary, c.1948). This was the second of two HMV singles 1963-64. A third single was released on Gamba in 1973.
See also the B-side Mama Let The Phone Bell Ring, and her recording of Every One But The Right One, a song that had been on Helen Shapiro's 1963 album Helen's Sixteen. In 1963 she told a reporter, "Helen Shapiro is my ideal."
Although she never had a hit record, Vicki Forrest was a frequent presence in Australian media in the late 60s and early 70s.
Her first TV appearance was on early-1960s youth talent show Opportunity Knocks on Sydney's TCN9. From 1963 to 1965 she was often on the major pop show Sing Sing Sing, originating at ATN7 and by that time compered by Johnny O'Keefe.

In 1964, as music went Merseybeat, Vicki appeared on ATN7's Thank Your Lucky Stars, along with clips of The Beatles and other British Invasion stars. In 1966-67 she guested on four episodes of ATV0 Melbourne's up-to-date Go!!! Show.
She appeared four times on GTV9's In Melbourne Tonight in 1969, and in the early 70s she was seen on a number of other TV variety shows, including Sound of Music with Barry Crocker (1970), Tonight with Stuart Wagstaff (1971), Matt Flinders (1972), and The Graham Kennedy Show (1973).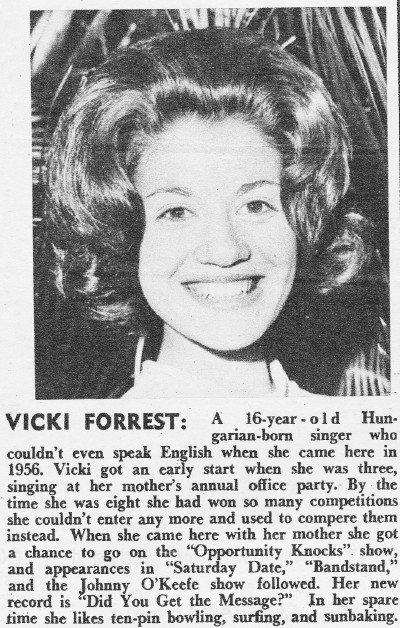 Vicki seems to have been in demand for photo shoots during the 60s. She is in the Women's Weekly's "Teenage Weekly" section where pop stars are showing the Christmas presents they loved best (December 1964), and with other female pop singers modeling the clothes that please their fans (July 1966).
In 1969 she appeared in a print ad for a Suzuki motorcycle and, also in 1969, she is on the steps of the Sydney Opera House (still uncompleted) for a photo that appeared in a book, Made in Australia.

She is a longtime acquaintance of US pop star Bobby Rydell, having been featured on his Bobby Rydell Show TV special on ATN7 in July 1966. It had been filmed in Sydney a few weeks earlier. (Here is Bobby tweeting about Vicki in 2018.)
During the 80s and 90s Vicki was in the touring Johnny O'Keefe Memorial Show with other Australian music stars of the past including Alan Dale and Barry Stanton.
As recently as 2018 Vicki Forrest was photographed with other Australian music legends at their members-only ARROWS luncheon. She is married to audio director Trevor Norris, once a deejay at 4WK Warwick.
---
At YouTube: Vicki Forrest performs My Little Boy on ABC-TV's Be Our Guest (1966-67). The big man in the video with Vicki is Jack Allan, jazz musician and familiar actor on TV and in films.
---
Ada Jones And Will C. Robbins - My Little Girl (1915)
10-inch 78 rpm Columbia disc, recorded April 1915 by Ada Jones, US singer-comedian born in Lancashire, and US tenor Will C. Robbins.
Albert Von Tilzer (1878-1956) wrote the music; the words are by Sam Lewis and Will Dillon. Von Tilzer was a prolific composer but his best known songs these days are possibly (I'll Be With You) In Apple Blossom Time (1920, words by Neville Fleeson) and Take Me Out To The Ball Game (1908, words by Jack Norworth). According to Songwriters' Hall of Fame Von Tilzer was one of the best known Tin Pan Alley songwriters at turn of the 20th century.
In this original version Will sings my little girl as in the title, but Ada sings my little boy, as in the records by Vicki Forrest and Lynne Curtis.
---
It might be hard to recognise this old vaudeville song in Vicki Forrest's 1964 Aussie pop song. The video below will start playing at around 1:44, where the lyrics line up with Vicki Forrest's record.
---
Albert Campbell & Henry Burr - My Little Girl (1915)
10-inch 78 rpm disc on Victor August 1915 (recorded in June) by frequent singing partners New Yorker Albert Campbell and Canadian-born Henry Burr (Harry Haley McClaskey).
---
Also released by Peppino & Son as My Little Girl Medley on Rex D-5313, dated by Steven C. Barr in the range c. June 1916-January 1917, and at 45Worlds.com as 1915.
---
Lynne Curtis - My Little Boy (1964)
Lynne Curtis was from the West Midlands. She was well known to music fans in the Coventry area where she sang at such venues as the Orchid Ballroom and the Coventry Theatre. She joined Kenilworth band The Mustangs after meeting them at her parents' coffee lounge in Leamington. She also sang with local bands The Challengers and The Matadors.
Further reading: 1. Matadors at Hobo's A-Z of Coventry Bands. 2. Lynne Curtis by Pete Clemons at his Coventry Music blog. 3. The Mustangs at the Coventry Music Museum.
---
Guido Deiro - My Little Girl (1915)
78 rpm disc on Columbia A1802, recorded July 1915 by Italian-born vaudeville accordionist and composer (Count Guido Pietro Deiro 1886-1950). His brother was the accordionist Pietro Diero. Guido was married to Mae West 1914-20.
Biographical details from Discogs.com.
---
The Pinetoppers - My Little Girl (1952)
B-side on Coral by hillbilly band formed by Roy Horton with his brother, George Vaughn Horton (Discogs.com).
---
Nick Todd - My Little Girl (1958)
Single on Dot. Nick Todd (b. 1935) is the younger brother of Pat Boone. He was groomed as a teen idol in the style of the day by Dot Records, where his stage alias was coined by reversing "dot". He released nine singles 1959-60, including a cover of Danny & The Juniors' At The Hop that was his only Billboard Top 40 record (1958, #21), although Plaything made #41 (1957). He became a social worker after studying at the University of Tennessee.
Sources, further reading: Nick Todd biographies at AllMusic and Wikipedia. AllMusic has his real name as Nicholas Boone; Wikipedia has Cecil Altman Boone.
---
Justin Wilson - My Little Girl (1966)
Single on Tower by comedic Louisiana chef (1914-2001) who ran TV cooking shows and wrote Cajun-style cookery books. His humour was of regional appeal, captured on albums with names like Brought You Self Wit' Me! and How Y'All Are!
Sources: Justin Wilson pages at Discogs.com and Wikipedia.