Co-charted with the original version by Charley Pride and another Australian version by The Proclaimers.
---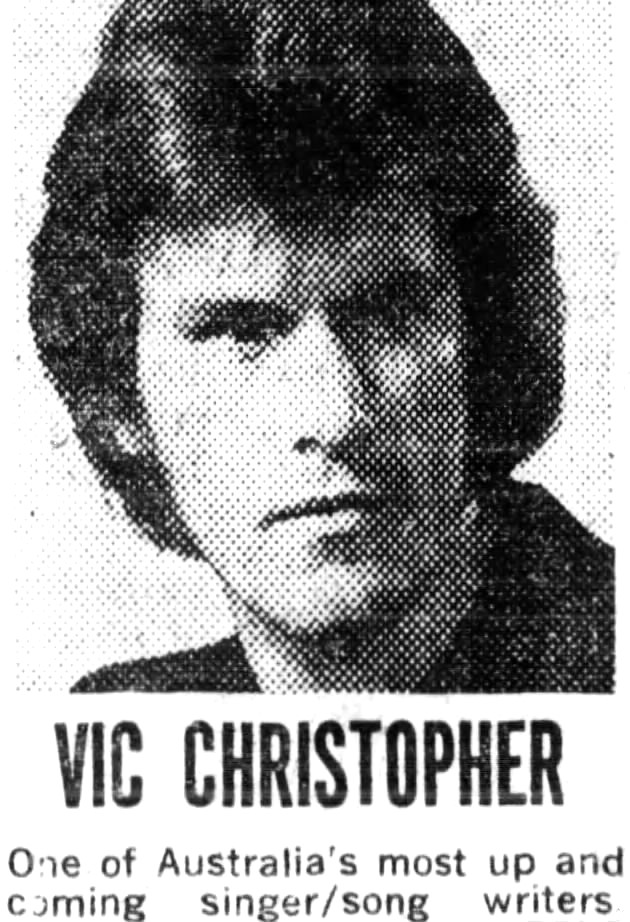 Single on M7 by Vic Christopher, singer and songwriter from Blacktown in Sydney. His songs are copyrighted under Victor Christopher Polowienia.
♫ Listen at YouTube
Christopher wrote the B-side I'm On My Way Again. He released 10 tracks on singles 1971-72 (disregarding repeats) and 6 of them were his own compositions.
Christopher's composition Forgive Me For Saying Forget Me was recorded by Judy Stone for the B-side of her hit Would You Lay With Me (In A Field Of Stone) (1974). His own version, recorded in 1971, did not chart but had some airplay on Sydney station 2CH, as did his recording of Dear To Me.
He wrote Me And My Lord, "a good religious ballad with a beat" (SMH) that appeared on Johnny Ashcroft's gospel LP Heaven Help Us All (1971).
Time Won't Make It Better, recorded by Sydney female band Peaches was another Vic Christopher composition.
Four tracks sung by Vic Christopher appeared on the Joe Halford-produced compilation Australian Country Volume One (1972) including Holly Brown, his composition that had appeared on a single (1971).
Charley Pride - All His Children (1971)
From the film Sometimes A Great Notion (1971), aka Never Give an Inch (UK title). Nominated for Best Song Oscar. Charley Pride is credited for the song's appearance on the soundtrack.
The film had limited release in the US on 17 December 1971. General release worldwide began early in 1972.
---
Charley Pride's single on RCA Victor was released in January 1972, arranged and conducted by Henry Mancini, produced by Jack Clement.
Charley Pride (1938-2020) was the first African American country music star and one of the most successful country artists of his era. He had picked cotton, started a career in baseball, served in the army, and kept up a day job before country stars Red Foley and Red Sovine heard him singing and set him on a path that led to his signing with RCA in Nashville in 1966.
From All I Have to Offer You (Is Me) and (I'm So) Afraid of Losing You Again in 1969 to Night Games in 1983, he had over thirty #1 country hits, as well as many gold and platinum albums. His only crossover into the Billboard pop charts was Kiss An Angel Good Morning (1971, #21 USA).
As a young country radio fan he was inspired by Hank Williams, and in 1980 he released the tribute album There's A Little Bit Of Hank In Me.
Sources, further reading: 1. Charley Pride at Donald's Encyclopedia of Popular Music (Donald Clarke). 2. Charley Pride biography by David Vinopal at All Music. 3. Charley Pride singles and album discographies, with chart placings, at Wikipedia
---
Co-composers Alan (b. 1925) and Marilyn Bergman (1928-2022), were a husband-and-wife team who became known from the late 1950s for their numerous compositions and lyrics for major artists and film soundtracks, and for their collaborations with such notable composers as Michel LeGrand, Marvin Hamlisch, and Henry Mancini.
Further reading: 1. Alan & Marilyn Bergman at Songwriters' Hall of Fame. 2. Wikipedia article on The Bergmans.
The Proclaimers (Australia) - All His Children (1972)
This is not about Scottish duo The Proclaimers, known for their late 1980s hits I'm Gonna Be (500 Miles) and I'm On My Way.
---
Single on Fable by progressive Melbourne youth choir formed 1966, active till 2006, influenced by black American gospel music. Leader and conductor Jonathan Summers left Australia in 1974 to build a distinguished career as an opera singer based in the UK. The choir had its own five-piece instrumental group led by musical director Graeme Burnham. In March 1972 The Age reported that the choir, "originally members of the Rosanna Baptist Youth Group", were "now inter-denominational".
Sources, further reading:
1. "The gospel according to Melbourne's Proclaimers", ABC Radio's RareCollections, 2015
2. Liner notes to The Proclaimers' 1968 EP Lord, I'll Be Willing at 45cat.com (click on thumbnail).
3. Jonathan Summers page at Opera Australia.
4. Proclaimers discographies at Discogs and 45cat.
5. The Age (Melbourne) 23 December 1968 and 9 March 1972
6. Angelic Choir of Nutley NJ by Craig Harris at All Music.