Single on Festival NZ by popular Napier band formed as The Troubled Minds (plural) in 1965. They moved to Auckland in 1967 after line-up changes and a reformation.
For more band history see under Dick Roberts & The Troubled Mind – Carpet Man (1969). See also Freedom, the B-side of I'm Good for You.
The first Troubled Minds single came out on Zodiac in 1968, a version of The Rolling Stones' Under My Thumb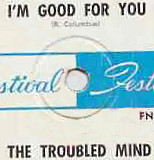 By the time I'm Good for You, their second single, came out in 1969 the band had a new manager, New Zealand singer-songwriter-producer Ray Columbus who had the band's name tweaked to The Troubled Mind (singular). Columbus was back from a sojourn in the US where he had produced two tracks for San Francisco band Fire. Released on an album and as a single, those two Fire tracks, I'm Good For You and Freedom (see below) were the source of a double-sided cover by The Troubled Mind.
A third and (as far as I can see) final Troubled Mind single was released in 1969 and by 1970 the band had broken up.
References: 1. Troubled Mind page at Bruce Sergent's NZ music site. 2. Richard Roberts's illustrated chronology at his website. Recommended. 3. Troubled Mind – I'm Good For You by Kris Holmes at Waxidermy.com has the full label shot that I've cropped here, plus useful commentary.
Fire - I'm Good For You (1968)
Single on Colstar (The Sound of San Francisco), a label co-founded by New Zealand singer, producer and songwriter Ray Columbus during his 1966-68 sojourn in the USA. This was from San Francisco International Pop Festival, a various-artists album on Colstar produced by Columbus.
The Troubled Mind's NZ single from 1969 covers both sides of this single. The B-side was Freedom, a Leon Patillo composition.
After top New Zealand band Ray Columbus & The Invaders broke up in 1965, Ray Columbus went solo. He wrote and produced I Need You (1966), a #12 NZ hit, one of four solo singles on the Impact label, mostly originals written either by Ray alone or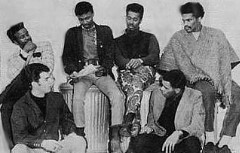 with Dave Russell from The Invaders. An exception was (That's What I've Got) For Loving You Baby, a cover of a song by British singer-songwriter Kenny Lynch.
In mid-1966 Columbus moved to San Francisco with his American wife and continued his career there. He performed in local venues and released singles on Colstar, a label founded by Columbus and his U.S. manager Al Zehner. These were released under his own name and with a band, The Art Collection. They made good use of Columbus's own compositions,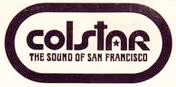 including some material previously recorded by Columbus or The Invaders.
The songs on Ray Columbus's 1967 US single on Colstar We Want A Beat / I Need You had been on separate solo singles on Impact in New Zealand the previous year.
A Ray Columbus & The Art Collection single on Colstar had a Columbus composition on the A-side, Kick Me (I Think I'm Dreaming), with the Invaders' 1964 hit song She's A Mod on the B-side.
Similarly, the A-side of a 1968 Ray Columbus US single on Colstar was Till We Kissed, The Mann-Weil song that had given Ray Columbus And The Invaders a big hit in New Zealand in 1965. The B-side was a song written by Columbus with Billy Kristian from The Invaders, Tonight Is The Time, previously a 1965 B-side for The Invaders.
Columbus wrote and produced for other San Francisco artists on San Francisco International Pop Festival, a Colstar studio album recorded to mark that October 1968 event, although the exact connection between album and festival is unclear (see Ray Lillo's comment at 45cat). The festival had a troubled history of date, venue and line-up changes, as reported in Billboard 28 Sep 68 and 26 Oct 68.
For example, Charolette Wood was produced by Ray Columbus on Friendly Indians and Good Day. Both were on the festival album and released on a Colstar single. According to the Discographies of Bay Area Groups at the Grateful Dead Family Discography site, Charolette Wood were the E-Types who had released five singles 1966-67 but used this alias for their sixth.
The two songs on the Fire single I'm Good For You and Freedom were on the album and also released as a single.
References, further reading: 1. The best source I've seen on Ray Columbus's work with Colstar in the US is by Murray Cammick from Real Groove magazine, May 2001, reproduced in Peter McLennan's post Ray Columbus – San Franciscao – 1966 at Dub Dot Dash. 2. Ray Columbus and Ray Columbus & The Invaders pages at Bruce Sergent's NZ music website. 3. Columbus's raycolumbus.com was no longer online last time I checked, but it is accessible here at The Internet Archive. There is a timeline giving an overview of his career 1948-2007. 4. Discographies of Bay Area Groups at the Grateful Dead Family Discography