Single on Phillips NZ by popular Napier band formed in 1965, later in Auckland.
B-side of I Wouldn't Wish This Emptiness On Anyone, an original by band member Bruce Robinson.
Both tracks are collected on 2014's Upside Down – Coloured Dreams from the Underworld 1966-1970: Carpet Man on Vol. 1 [Spotify, Amazon], and I Wouldn't Wish This Emptiness On Anyone on Vol. 2. [Amazon]
---
Richard Roberts was a founding member of Troubled Minds (plural), named from a Lightnin' Hopkins song and initially inspired by the Rolling Stones.
In 1966, after their weekly mod dance at Napier's Club 66 had ended, Roberts and two other Minds joined The Len Whittle Combo, also known as Deep Set for a while. This band, with further personnel changes, moved to Auckland in 1967 and revived the name Troubled Minds.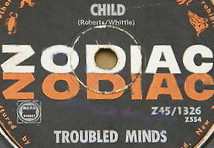 The first Troubled Minds single came out on Zodiac in 1968, Under My Thumb / Child.
By the time their second single came out on Festival in 1969 the band had a new manager, Ray Columbus, who changed the band's name to The Troubled Mind (singular) and provided an A-side I'm Good For You which charted #20 in New Zealand.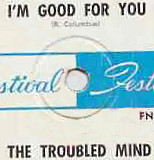 For more on I'm Good For You, its flipside Freedom, and Ray Columbus's time in the US, see under The Troubled Mind – I'm Good For You.
The single of Carpet Man dates from this period. This appears to have been the third and final Troubled Mind single, and the band had broken up by 1970.
Thanks to Dave Overett for additional research.
References: 1. Troubled Mind page at Bruce Sergent's NZ music site. 2. Richard Roberts's illustrated chronology at his website. Recommended. 3. Carpet Man at The Originals. 4. Details of singles releases at 45cat.com and Discogs.com (linked above). 5. Troubled Mind – I'm Good For You at Waxidermy.com has the full label shot that I've cropped here, plus commentary.
---
The Parking Lot - Carpet Man (1969)
Single on Parlophone, the only one by Joe Willams vocals, Denis Thompson bass vocals + guitar, Brian Hudson drums, vocals, and Mick Caxton organ, vocals + guitar. B-side of World Spinning Sadly, written by the producer, Paul Samwell-Smith, original bassist with The Yardbirds who left in 1966 and was replaced by Jimmy Page.
Further reading: 1. Bruce Eder's biography of Paul Samwell-Smith at AllMusic. 2. Line-up thanks to comments by band members Thompson & Caxton at the record's 45cat.com page.
---
The Nocturnes - Carpet Man (1968)
Single on Columbia by late-60s Birmingham band with an "alluring and pleasantly upbeat psychedelic sound" (Bruce Eder at AllMusic).
---
The 5th Dimension - Carpet Man (1967)
From the album Magic Garden (December 1967), produced by Jim Webb and Bones Howe. Carpet Man was released as a single on Soul City (January 1968).
Webb also arranged the album and he wrote all of the songs except for a version of The Beatles' Ticket To Ride. Also on the album were Paper Cup (#34 USA) and the original version of The Worst That Could Happen, later a hit for Brooklyn Bridge (1969, #3 USA).
Carpet Man is an example of how the careers of Jim Webb (the composer), Johnny Rivers (original version) and 5th Dimension (charting version) were linked:
• Rivers was the first to record Jim Webb's By The Time I Get To Phoenix, the year before Glenn Campbell's 1967 version gave Webb one of his first big successes.
• Webb's other breakthrough hit, also in 1967, was 5th Dimension's version of Up-Up And Away.
• Rivers had signed the 5th Dimension, then known as The Versatiles, to his own Soul City label and – with Marc Gordon – produced Up-Up And Away (#7 USA), 5th Dimension's first Top 10 hit.
---
Bud Shank - Carpet Man (1967)
On World Pacific album Magical Mystery by jazz saxophinist and flautist (1926-2009).
---
Johnny Rivers - Carpet Man (1967)
On Imperial album Rewind by solo singer, guitarist and songwriter (b. 1942) whose first albums were recorded live at the Whisky A Go Go, the Las Vegas nightspot where he headlined. Although he'd recorded his first solo 45 in 1958, Johnny Rivers arrived on the US charts just as The British Invasion was getting into full swing. His records were full of musicality and hip enough to appeal to the Top 40 audience without capitulating to the invaders, and he stayed on the charts throughout the 60s and into the 70s.
The sources of his US hits included Chuck Berry (Memphis,1964, #2; Maybelleine, 1964, #12), Motown (Baby I Need Your Lovin', 1967, #3; The Tracks Of Your Tears, 1967, #10), P.F. Sloan & Steve Barri (Secret Agent Man, 1966, #3) and the oldies catalogue (Mountain Of Love, 1964, #9; Rockin' Pneumonia – Boogie Woogie Flu, 1972 #6).
Nevertheless, his biggest hit was an original that he wrote with its producer Lou Adler, Poor Side Of Town (1966, #1), a slow, melodic and atmospheric song with an up-to-date pop-orchestral arrangement by Adler.
The last Billboard Top 40 hit for Johnny Rivers was Swayin' To The Music (Slow Dancin') (1977, #10), written by Jack Tempchin and recorded the previous year by his group The Funky Kings.