The Iguana - Requiem: 820 Latham (1969)
Single on Festival, B-side of Good News. Both sides of the single were originally by The 5th Dimension.
One of four singles released on Festival 1967-1969 by Melbourne band featuring harmony vocals with lead singer Gary Sweetman. Other members were Gary Littlewood (lead guitar) Cleve Littlewood (rhythm guitar), Graham Jones (bass) and Peter Saunders (drums)
See also California My Way.
Reference: Ian McFarlane, Encyclopedia of Australian Rock & Pop.
---
The Executives - Requiem: 820 Latham (1968)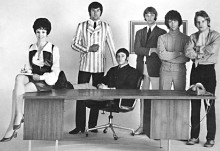 On Festival album On "Bandstand" by polished Sydney band with fine pop sensibility, formed by vocalist Carole King with her husband Brian in 1966.
---
For more information about band history and personnel, see for example It's A Happening World.
---
Further reading: 1. Thorough band biography and discography at Milesago. 2. Ray Burton's website and MySpace page.
Image: Thanks to Ray Burton.
---
---
The 5th Dimension - Requiem: 820 Latham (1967)
On Soul City album The Magic Garden by versatile pop-soul vocal group (they were previously called The Versatiles) formed in 1965.
The 5th Dimension had numerous Billboard Top 40 hits in the late 60s and early 70s including Up Up And Away (by Jimmy Webb, 1967, #7 USA), Aquarius-Let The Sunshine In (from Hair, 1969, #1), One Less Bell To Answer (by Burt Bacharach & Hal David, 1970, #2), and two Laura Nyro compositions, Stoned Soul Picnic (1968, #3) and Wedding Bell Blues (1969, #1)
---
Requiem: 820 Latham is one of Jimmy Webb's strangest and most wonderful songs, like a darker, less familiar sibling of MacArthur Park. The lyrics are about the cataclysmic grief of unrequited love, artfully expressed by the lead vocals of Billy Davis Jr. .
---
Dick Dodd - Requiem: 820 Latham (1970)
Single on Attarack by former Disney Mouseketeer, later lead singer and drummer with The Standells, heard on their hit Dirty Water (1966, #9 USA).
---
Mel Torme - Requiem: 820 Latham (1970)
Single on Capitol, also on album Raindrops Keep Fallin' On My Head.
Mel Tormé (1925-1999) was a jazz musician with diverse skills but he was best known for his singing which earned him the nickname The Velvet Fog. Among his accomplishments was composing the music and co-writing the lyrics of The Christmas Song [Chestnuts roasting on an open fire], but he was also a drummer, arranger and author.
Tormé favoured the jazz standard or the "Great American Songbook" but from the late 60s he included a number of current pop hits on his albums, including compositions by Billy Joel, Stevie Wonder, Janis Ian, and Bacharach & David.
---
Richard Harris - Requiem: 820 Latham (1974)
On ABC album His Greatest Performances by British stage and screen actor (1930–2002).
As a singer Richard Harris had one big hit, with Jimmy Webb's MacArthur Park (1968, #2 USA, # 4 UK). It makes sense that he would also record Requiem: 820 Latham, another operatic Jimmy Webb composition.