The Iguana - California My Way (1968)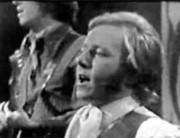 Single on Festival April 1968, the third of four singles 1967-1969 by Melbourne band featuring harmony vocals with lead singer Gary Sweetman. Other members were Gary Littlewood (lead guitar) Clive Littlewood (rhythm guitar), Graham Jones (bass) and Peter Saunders (drums). This was also on an EP California My Way (June 1968).
The Iguanas' fourth single had a cover of a 5th Dimension original on both sides: see Good News (1969) and its B-side Requiem: 820 Latham.
They did not confine themselves to cover versions, though. Both songs on their first single Imagine This / Dreaming Away To Myself (1967) were originals written by the band's Gary Littlewood and Clive Littlewood who also wrote Mary Go Round, the B-side of California My Way.
Sources: 1. Ian McFarlane, Encyclopedia of Australian Rock & Pop. 2. Noel McGrath's Encyclopaedia of Rock & Pop.
Thanks to Dave Overett, Chris Munson and Alan.
Additional version alerts from Terry Stacey.
---
---
The 5th Dimension - California My Way (1967)
On album Up, Up and Away, April 1967, co-produced by composer Willie Hutch.
Written by Willie Hutch (Willie McKinley Hutchinson), singer, songwriter, arranger and producer who co-wrote The Jackson 5's I'll Be There and produced Smokey Robinson, Michael Jackson and others at Motown from the early 70s. He wrote the funk-soul soundtrack for the 1973 movie The Mack.
Willie Hutch also recorded California My Way, on his 1973 album Fully Exposed.
See The Dream – Who Could Be Lovin' You (Other Than Me), a Willy Hutch composition, also recorded in Australia by The Heart And Soul and in New Zealand by Bunny Walters.
---
---
The Main Ingredient - California My Way (1974)
Single on RCA Victor and on the album Euphrates River by long-lasting soul-r&b group formed 1964, They recorded as The Poets then as The Insiders before becoming The Main Ingredient. With producer Bert DeCoteaux they began to chart r&b from 1970 then had Top 40 hits with Everybody Plays The Fool (1972, #3 USA, #44 Australia) and Just Don't Want To Be Lonely (1974, #10 USA, #27 UK).