The Iguana - California My Way (1968)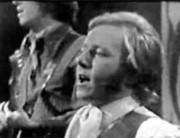 One of four singles released on Festival 1967-1969 by Melbourne band featuring harmony vocals with lead singer Gary Sweetman. Other members were Gary Littlewood (lead guitar) Cleve Littlewood (rhythm guitar), Graham Jones (bass) and Peter Saunders (drums). See also: Good News (1969) and its B-side Requiem: 820 Latham.
Reference: Ian McFarlane, Encyclopedia of Australian Rock & Pop.
Thanks to Dave Overett, Chris Munson and Alan.
The 5th Dimension - California My Way (1967)
On 1967 album Up, Up and Away, co-produced by Willie Hutch.
Written by Willie Hutch (Willie McKinley Hutchinson), singer, songwriter, arranger and producer who co-wrote The Jackson 5's I'll Be There and produced Smokey Robinson, Michael Jackson and others at Motown from the early 70s. He wrote the funk-soul soundtrack for the 1973 movie The Mack.
Willie Hutch also recorded California My Way, on his 1973 album Fully Exposed.
See The Dream – Who Could Be Lovin' You (Other Than Me), a Willy Hutch composition, also recorded in Australia by The Heart And Soul and in New Zealand by Bunny Walters.