Charted January 1967.
Wrongly credited here to Solomon Burke as writer.
The Groop became a successful Melbourne live band after it emerged from a trio formed by Wesley College schoolmates. It changed direction in 1966 when founding members Max Ross and Richard Wright were joined by Brian Cadd and Ronnie Charles (both from The Jackson Kings) and Don Mudie. This Groop Mark II had a more up-to-date flavour, and charted with such original songs as Woman You're Breaking Me (Cadd-Wright) and Such A Lovely Way (Cadd-Mudie), both hits outside of Melbourne.
For details of Brian Cadd's varied and distinguished career in several bands and as a solo singer-songwriter, see Milesago's Brian Cadd page.
See also Watch Your Step by The Jackson Kings, the band that Brian Cadd and Ronnie Charles left in order to join The Groop.
References: Ian McFarlane, Encyclopedia of Australian Rock & Pop; Milesago's article on The Groop.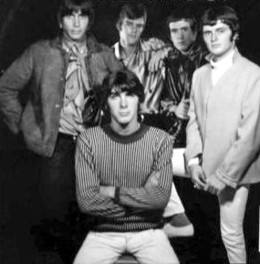 ---
Solomon Burke - I Said I Was Sorry (1962)
Single on Atlantic, also on the album If You Need Me (1963).
Joy Byers wrote, for example, Eddie Cochran's C'mon Everybody (1958, #35 USA, #6 UK), Timi Yuro's What's A Matter Baby (1962, #12 USA) and several Elvis Presley songs. She also wrote with her husband, Bob Johnston , producer of (for example) Bob Dylan's Blonde On Blonde and Simon & Garfunkel's early albums. Johnston has claimed co-writer credit for many Joy Byers songs which he explains were credited solely to his wife for contractual reasons.
See Of Hopes And Dreams And Tombstones by The Purple Hearts.
Sources: 1. Solomon Burke's repertoire at BMI; Joy Byers' repertoire at ASCAP; writer credit for I Said I Was Sorry at AMG (via Answers.com) 2. Solomon Burke discography at SoulExpress.net.
Further reading on Joy Byers: 1. C'mon Everybody at Wikipedia. 2. Joy Byers filmography at IMDb (includes songs written for Elvis films). 3. For Bob Johnston's contribution to songs by Joy Byers songs see, for example, this page at B-Dylan.com, although a search for "joy byers" + "bob johnson" will throw up the same story. 4. Bob Johnston article at Wikipedia includes section .
---
The Easybeats - Sorry (1966)
Same title but not the same song as 'Sorry' by The Groop.
One of several Australian hits by The Easybeats before they charted around the world with Friday On My Mind.
Also recorded, for example, by "LA Paisley Underground" band The Three O'Clock on Baroque Hoedown (1982). (Thanks to Dave Monroe.)
See also Wedding Ring, their 1965 hit.