The Sports - Wedding Ring (1979)
The Sports, formed in 1976 and fronted by vocalist Steve Cummings, were admired for their eclectic range of covers as well as for their original songs, many written by band members, including Steve Cummings, Ed Bates, Martin Armiger and Andrew Pendlebury.


The Sports broke up in 1981 after releasing four albums and numerous singles, among them Boys! What Did The Detectives Say (Cummings-Bates, 1978), Who Listens To The Radio (Cummings-Pendlebury, 1978) and Strangers On A Train (Armiger-Cummings, 1980).
References: Ian McFarlane, Encyclopedia of Australian Rock & Pop; Howlspace's Sports page; APRA database.

The Easybeats - Wedding Ring (1965)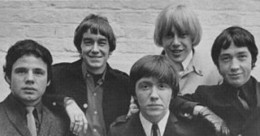 The Easybeats were Australia's greatest pop export of the 60s, famous worldwide for their 1966 hit Friday On My Mind, but also responsible for an impressive repertoire of original pop songs, many of them hits in Australia.
Harry Vanda and George Young are noted for writing most of the Easybeats' material, including Friday On My Mind, but lead singer Stevie Wright also wrote in collaboration with George Young. Wright-Young compositions include The Easys' first hit, For My Woman, along with She's So Fine, Women, Come & See Her, and Sorry, all big hits in Australia before the band decamped to Britain.
Vanda and Young went on to continued success as producers, songwriters and performers (Flash and the Pan): see Magnus Holmgren's Vanda-Young discography at his Australian Rock Database [archived].
The No Nonsense AC/DC Webzine outlined the achievements of the Young family [archived page], including George's brothers Malcolm and Angus of AC/DC.
More on The Easybeats at Aussie music site Milesago.