The Allen Brothers - There's Never Been A Girl Like You (1962)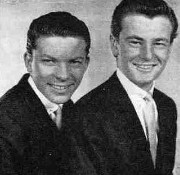 Single on His Master's Voice (Australia). This was the B-side of the single and the side that charted. The A-side was Ain't Misbehavin', The Fats Waller song.
The Allen Brothers were Peter Woolnough – who changed his name to Peter Allen – and Chris Bell. They appeared regularly on TV's Bandstand, recorded several singles with some minor hits, and became a well-booked live act in Australia,Southeast Asia and the USA. They also recorded some singles in the US in the late 60s as Chris & Peter Allen.
After the duo broke up in 1970 Peter Allen (1944-1992), by then based in the US, became a star solo singer-songwriter and cabaret performer. His compositions include Olivia Newton-John's I Honestly Love You (co-wr. Jeff Barry, 1973, #1 USA), Melissa Manchester's Don't Cry Out Loud (co-wr. Carole Bayer Sager, 1979, #10 USA), and his own Australian #1 I Go To Rio (co-wr. Adrienne Anderson, 1976). His song I Still Call Australia Home, well-known in Australia, was heard in Qantas ads and at the Sydney Olympics opening. More details under Peter Allen's Australian hit The More I See You.
The Allen Brothers' other three charting records were of original songs. In fact, the bulk of their recordings seem to have been of original Australian compositions. One exception was Bells, Bells, Bells, a cover of a US single by Billy & Lillie of Lah Dee Dah fame.
My Secret (1960, #11 Sydney, #23 Melbourne, #49 Adelaide) and Pretty Keen Teen (1960 #14 Sydney) – both by Elaine/Laine Goddard) – and No Hesitation (1961, #19 Sydney) were all original Australian songs.
For more on those songs and their composers, see under Bells, Bells, Bells.
Image: Chris (left) and Peter, Australian Women's Weekly, 7 September 1960, p. 43, Supplement: Teenagers' Weekly, via NLA's Trove, retrieved April 13, 2015 (enhanced).
References: 1. Ian McFarlane, Encyclopedia of Australian Rock & Pop (1999), pp. 12-14. 2. Wikipedia entry on Peter Allen. 3. Elaine Goddard listings at 45cat, US Copyright Office, APRA, BMI and NLA. 4. Allen Brothers recordings listed at First Wave discography.
Kenny Lynch - There's Never Been A Girl (1962)
Single on His Master's Voice (UK), February 1962.
Written by brothers Tony and Irving Hiller with Harold Spiro, There's Never Been A Girl was first heard on A Song For Europe (now Eurovision: Your Country Needs You) as a candidate for Britain's 1962 Eurovision entry.
Tony Hiller became a prolific songwriter and producer, notably for Brotherhood of Man which he brought together and wrote songs for, including United We Stand (1970, #10 UK, #13 USA), 1976 Eurovision winner Save Your Kisses For Me (1976, #1 UK, #27 USA) and Angelo (1977, #1 UK), all co-writes with group members.
---
Songwriter Harold Spiro (1925-1996) was a long-standing friend and creative associate of Tony Hiller. During a varied career as songwriter, producer, label owner and music publisher, Spiro co-wrote, for example, The Yardbirds' Little Games (1967), Cockerell Chorus's football novelty song Nice One Cyril (1973, #14 UK) and (with regular writing partner Valerie Avon) Olivia Newton-John's Long Live Love (1974, #11 UK). He also performed and recorded in the 70s as Hoagy Poagy YouTube.
---
Kenny Lynch, from Stepney in London (b.1938), charted in Britain with versions of US hits such as Mountain Of Love (1960, #33 UK, originally by Harold Dorman), Up On The Roof (1962, #10, The Drifters), and Stand By Me (1963, #39, Ben E. King).
After touring with The Beatles in 1963 Lynch recorded their new song Misery, released just before their own version appeared on Please Please Me and notable for being the first Beatles composition released by a non-Beatle.
Lynch's own career as a songwriter has some remarkable highlights, with songs recorded by such top names as Dusty Springfield, The Drifters and Cilla Black
With the major American songwriter Mort Shuman he wrote The Small Faces' Sha La La La Lee (1966, #3 UK), as well as two songs on their first album, one of them written with another notable American, Jerry Ragavoy.
Johnny Tillotson's You Can Never Stop Me Loving Me (1963, #18 USA), is a cover version of a Kenny Lynch record that had charted at #10 in the UK a couple of months earlier (written by Ian Samwell & Jean Slater).
References, further reading: 1. Kenny Lynch biography by Richie Unternerger at All Music. 2. Kenny Lynch's website. 3. Tony Hiller's website, incuding his Ultimate Discography. 4. Wikipedia's article on Harold Spiro.