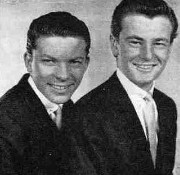 Single on Lee Gordon YouTube, "with chorus and orchestra directed by Eddie Cash Jr", an alias of Australian rock'n'roll star Johnny O'Keefe: see Booka Hyland's 1960 single Sweet Thing.
The Allen Brothers were Peter Woolnough – who changed his name to Peter Allen – and Chris Bell. They appeared regularly on TV's Bandstand, recorded several singles with some minor hits, and became a well-booked live act in Australia,Southeast Asia and the USA. They also recorded
some singles in the US in the late 60s as Chris & Peter Allen.
Most of The Allen Brothers' charting records were of original songs. My Secret (1960, #11 Sydney, #23 Melbourne, #49 Adelaide) and Pretty Keen Teen (1960 #14 Sydney) were both written by Elaine Goddard who wrote at least 9 songs for Allen Brothers singles as well as a few for Frank Ifield.
Goddard's full name was Elaine Christine Goddard, and she was also known as Laine Goddard (also styled 'Laine).
No Hesitation (1961, #19 Sydney) appears also to be an original Australian composition, credited on the record to S. Russell, W. Readford (probably Australian songwriter Winifred Readford) and C. Howard. The song is listed at the Australian performing rights body APRA as an Australian composition, but under the names N. Burns, H. Sutcliffe and W. Readford: go figure.
For the exception, see There's Never Been A Girl Like You (1962), a cover of Kenny Lynch's British single There's Never Been A Girl.
After the duo broke up in 1970 Peter Allen (1944-1992), by then based in the US, became a star solo singer-songwriter and cabaret performer. His compositions include Olivia Newton-John's I Honestly Love You (co-wr. Jeff Barry, 1973, #1 USA), Melissa Manchester's Don't Cry Out Loud (co-wr. Carole Bayer Sager, 1979, #10 USA), and his own Australian #1 I Go To Rio (co-wr. Adrienne Anderson, 1976). His song I Still Call Australia Home, well-known in Australia, was heard in Qantas ads and at the Sydney Olympics opening. More details under Peter Allen's Australian hit The More I See You.
Image: Chris (left) and Peter, Australian Women's Weekly, 7 September 1960, p. 43, Supplement: Teenagers' Weekly, via NLA's Trove, retrieved April 13, 2015 (enhanced).
References: 1. Ian McFarlane, Encyclopedia of Australian Rock & Pop (1999), pp. 12-14. 2. Wikipedia entry on Peter Allen. 3. Elaine Goddard listings at 45cat, US Copyright Office, APRA, BMI and NLA. 4. Allen Brothers recordings listed at First Wave discography.
Thanks to Jan Baart for suggesting this one. Thanks also to Tony Watson.
Billy & Lillie - Bells, Bells, Bells (1959)
Single on Swan YouTube by Billy Ford and Lillie Bryant. Also on Top Rank, at this time Swan's major label affiliate. Produced by the writers.
Jazz-pop-r&b singer Lillie Bryant (b.1940) moved to New York in her mid-teens. Back in her hometown of Newburgh, New Jersey, she had taken singing lessons and sat in at her mother's jazz club. Bryant had arranged to try out for the band of trumpeter Billy Ford (1925-1985) when Bob Crewe and his collaborator Frank Slay had the idea of teaming them up as a vocal duo, no doubt with the likes of Mickey & Sylvia in mind. The resulting single, La Dee Dah, became a national hit. Lillie Bryant now lives back in Newburgh and has been active in local politics and community work. Now Lillie Bryant-Howard, she still performs from time to time.
The first successful co-writes by Frank Slay and Bob Crewe were Silhouttes and its B-side Daddy Cool by The Rays (1957, #3 USA, on XYZ and Cameo). Both songs were covered often over the years (see versions of Silhouettes and Daddy Cool listed at The Originals). Daddy Cool in particular became a well-known song in Australia in the early 70s, thanks to the popularity of the band Daddy Cool and the spin-off single recorded by Drummond (1971).
Slay (b.1930) and Crewe (1930-2014) went on to write and produce many songs together for the Philadelphia label Swan 1957-1962, including Billy & Lillie's two hits, La Dee Dah (1957, charted 1958, #9 USA) and Lucky Ladybug (1958, charted 1959, #13 USA), and several for Freddy Cannon, including Tallahassee Lassie (1962, #6 USA, co-wr. Frederick Picariello) and Jump Over (1960, #20 USA, wr. Slay & Crewe, arr. Slay).
After that, both followed distinguished careers in producing, arranging and writing, Bob Crewe notably with The Four Seasons and their songwriting member Bob Gaudio. His career is well documented, especially around his role in creating the Four Seasons' sound, although his work extended well beyond that. The Bob Crewe Generation's instrumental Music To Watch Girls By (1966), written by Sid Ramin, charted Top 20 in the US.
Frank Slay produced further Freddy Cannon records at Swan and at Warner Bros, including Palisades Park (1962, #3 USA) and Abigail Beecher (1964, #16 USA). He became an independent producer, notably on Strawberry Alarm Clock's Incense And Peppermints (1967, #1 USA), and founded his own Claridge label in 1965. His own instrumental on Swan, Flying Circle (a version of Hava Nagila) by Frank Slay And His Orchestra, was a minor hit in 1962.
References, further reading: 1. Bob Crewe biography by Richie Unterberger at All Music. 2. Songs written by Bob Crewe at MusicVF.com. 3. Lillie Bryant page at Jersey Girls Sing. 4. Frank Slay at Wikipedia. 5 Billy & Lillie Rocked Dick Clark at Geezer Music Club. Lillie herself comments (January 2014), "I'm still here and I'm still singing." 6 ."Legend Lillie Bryant to perform at Ferry Godmother fundraiser event", Hudson Valley Press Online, May 15th, 2013 [archived page].