Peter Allen - The More I See You (1976)
From the 1976 A&M album Taught By Experts. Among other distinguished personnel, Herb Alpert is on trumpet and Lesley Gore sings in the background.
This version owes a lot to Herb Alpert's arrangement for Chris Montez (1966) which was also on A&M, the label co-founded by Herb Alpert.
Australian singer, songwriter and club entertainer Peter Allen (1944-1992) was born in Tenterfield, the New South Wales country town of his autobiographical song, Tenterfield Saddler.
He was born Peter Woolnough but changed his surname around 1960 after joining with Chris Bell as The Allen Brothers, a duo that had some minor hits and appeared regularly on TV's Bandstand. See their single Bells, Bells, Bells for more details.
The Allen Brothers performed around Southeast Asia in the early 60s but eventually moved to the US in 1964, initially to tour with Judy Garland, whose daughter Liza Minnelli was married to Peter Allen 1967-1974.
After The Allen Brothers broke up in 1970, Peter Allen, still based in the US, went on to a successful solo career as a songwriter and cabaret entertainer. His compositions include Bobby Sherman's Jennifer (1971, #60 USA, co-written with Carole Bayer Sager); Olivia Newton John's I Honestly Love You (1974, #1, co-wr. Jeff Barry); and Melissa Manchester's Don't Cry Out Loud (1979, #10, co-wr. Carole Bayer-Sager).
Back home in Australia, there were hits in 1977 with The More I See You and I Go To Rio (co-wr. Adrienne Anderson), a national #1 that was covered soon after in the USA by Pablo Cruise.
Peter Allen is now remembered through the biographical musical The Boy From Oz which premiered in Sydney in March 1998 with Todd McKenney as Peter Allen. Hugh Jackman received a Tony Award for the same role in the New York production which opened in October 2003.
Main references: 1. Ian McFarlane, Encyclopedia of Australian Pop & Rock. 2. All Music Guide's Peter Allen entry and chart statistics.
Further reading: Milesago's Peter Allen page
---
Chris Montez - The More I See You (1966)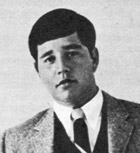 After having his first hit in 1962 with Let's Dance (#4 USA), Chris Montez (b.1943) had a successful second career, especially on the Adult Contemporary charts, with stylish rearrangements of pop standards for Herb Alpert's A&M Records.
The More I See You was arranged by Herb Alpert. It appeared on the 1966 album The More I See You, produced by Herb Alpert & Tommy LiPumaon.
Essential listening: Ronnie Allen's recent radio interview with Chris Montez, archived in mp3 format at Ronnie's Radio Page.
Further reading: 1. Chris Montez biography at All Music Guide. 2. Official site at ChrisMontez.com 3. Chris Montez's Myspace page.
---
Dick Haymes - The More I See You (1945)
With the Victor Young Orchestra on Decca, from a January 1945 recording session.
Used in the Dick Haymes-Betty Grable film Diamond Horseshoe (released May 1945). The More I See You is heard over the opening credits and throughout the film (IMdB soundtrack listing).
Composer Harry Warren (1893-1981) and lyricist Mack Gordon (1904-1959) were prolific creators of classic songs in the Tin Pan Alley era. Each had a number of collaborators throughout their careers, but they were brought together for a time in the 40s at 20th Century-Fox studios, where their compositions included Chattanooga Choo Choo, Serenade in Blue, There Will Never Be Another You You'll Never Know and At Last. A good place to start for their biographies and catalogues is the Songwriters' Hall of Fame (Gordon; Warren).
I've avoided trying to list every version of this much-recorded song. I've listed mainly versions that were 1945 covers of the original release. The Originals has a partial list of other versions. A Song search at All Music Guide will reveal many others.
Be wary of CD issues of this track: you could be getting a mid-50s re-recording. The CD linked above has Dick Haymes with the Victor Young Orchestra on The More I See You.
Reference: Dates for 1945 sessions are all from the Online Discographies Project, linked above to individual pages.
---
Jerry Wald & His Orchestra, Vocals By Dick Merrick - The More I See You (1945)
Version on Majestic recorded in February 1945.
---
Dean Hudson & His Orchestra, Vocals By Frankie Lester - The More I See You (1945)
Another 1945 cover, on Musicraft.
---
Georgia Gibbs - The More I See You (1945)
---
Sammy Kaye - The More I See You (1945)
Another RCA release, by orchestra leader Sammy Kaye.
---
---
Harry James & His Orchestra - The More I See You (1945)
This Columbia session on 3 January 1945 pre-dated the Dick Haymes session (21 January). Since we have no release dates, all we can do is assume the version tied to the movie took precedence.