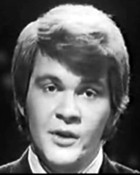 Single on Festival label.
Singer from Brisbane who hosted TV pop shows Uptight (from 1967) and Happening '70. See also The Star.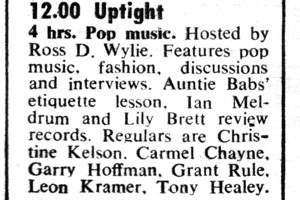 TV Times,
26 March 1969
Ray Stevens - Funny Man (1963)
Single on Mercury label. Also on 1963 album This Is Ray Stevens.
This serious song contrasts with the zany comedy records that gave Ray Stevens many of his biggest hits: Ahab The Arab (1962, #5 USA), Gitarzan (1969, #8) and The Streak (1974, #1). The title of his first national Top 40 hit just about sums up the style of humour: Jeremiah Peabody's Poly Unsaturated Quick Dissolving Fast Acting Pleasant Tasting Green & Purple Pills (1961, #35).
On the other hand, he has often shown other sides to his talent, for example with the social commentary of Mr Businessman (1968, #28) and the sentimentality of Everything Is Beautiful (1970, #1). In 1974 he released his uptempo, banjo-driven version of Erroll Garner & Johnny Burke's Misty (#14 USA), a masterful transformation of a wistful jazz standard into an easygoing country song.
Further reading: See the Ray Stevens album and singles discographies, as well as biographical notes and cover shots, at Petr Vitous's excellent Country LP Discography website.
Official site: RayStevens.com
Thanks to Tony Watson for erratum.
John Leyton - Funny Man (1963)
On HMV album Always Yours.
John Leyton: British pop idol who had a number of songs on the British charts 1961-64, including Johnny Remember Me (1961, #1) and Wild Wind (1961, #2). He is also an actor: see his filmography at IMdB.
Official site: JohnLeyton.com.