Single on Festival label, written by Johnny Young, Australian pop star of the 60s who also wrote Russell Morris's The Real Thing. See also, for example, his own hit Cara-Lyn.
Ross D. Wylie: singer from Brisbane who hosted TV pop shows Uptight (from 1967) and Happening '70. See also Funny Man.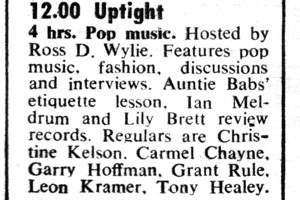 TV Times, 26 March 1969
Herman's Hermits - Here Comes The Star (1969)
British Invasion band from Manchester led by former child actor Peter Noone and produced by Mickie Most. They were frequently in the UK, USA and Australian charts from their first hit, a cover of Earl-Jean's I'm Into Something Good in 1964, until their break-up in 1970.