Ronnie Burns - When I Was Six Years Old (1968)
Single on Spin, January 1968, produced by co-writer Brian Cadd.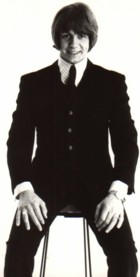 Melbourne singer Ronnie Burns emerged in 1964 as a member of Beatles influenced band The Flies, and went on to a successful solo career. After signing with Spin he benefited from his association with The Bee Gees, and he had several charting singles, usually with original songs by Australian songwriters.
---
For more details on Ronnie Burns's life and career, see his major hit Smiley (1969).
---
Further reading:
1. Milesago's Ronnie Burns page.
2. Wikipedia article on Ronnie Burns.
Photo: Colin Beard, thanks to Ronnie Burns.
The lyrics are hard to come by. For a fair transcription click here to view/download .pdf.
---
The Groop - When I Was Six Years Old (1967)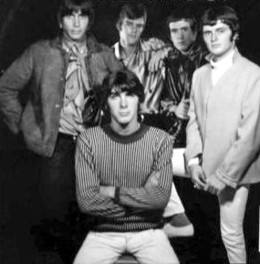 An original song performed by The Groop at the national finals of Hoadley's Battle of the Sounds, July 1967.1 The Groop won, and Sydney's Questions came second.
The Groop had become a successful Melbourne live band when it was first formed in 1964 by schoolmates at Wesley College. It changed direction in 1966 when founding members Max Ross and Richard Wright were joined by Brian Cadd and Ronnie Charles (both from The Jackson Kings) and Don Mudie. This Groop Mark II had a more up-to-date flavour, and charted with such original songs as Woman You're Breaking Me (Cadd-Wright) and Such A Lovely Way (Cadd-Mudie), both hits outside of Melbourne.
Footnote: 1. Wikipedia's entry on The Groop: The band won a trip to UK from the 1967 Hoadley's National Battle of the Sounds in July, with "When I Was Six Years Old" written by Cadd and Ross.
References: 1. Ian McFarlane, Encyclopedia of Australian Rock & Pop. 2. Milesago's article on The Groop.
Further reading: For details of Brian Cadd's varied and distinguished career in several bands and as a solo singer-songwriter, see Milesago's Brian Cadd page.
---