Ronnie Burns - We Had A Good Thing Goin' (1967)
Single on Spin label.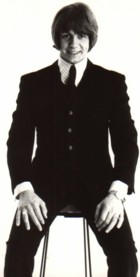 Melbourne singer Ronnie Burns emerged in 1964 as a member of Beatles influenced band The Flies, and went on to a successful solo career. After signing with Spin he benefited from his association with The Bee Gees, and he had several charting singles, usually with original songs by Australian songwriters.
For more about Ronnie Burns's later career and current whereabouts, see Smiley (1969), his biggest hit.

Further reading: 1. Milesago's Ronnie Burns page. 2. Wikipedia article on Ronnie Burns.
Photo: Colin Beard, thanks to Ronnie Burns.

---
The Cyrkle - We Had A Good Thing Goin' (1967)
Single on Columbia by folk-pop band, associates of The Beatles and Simon & Garfunkel, clients of Brian Epstein. The Cyrkles' big hit was Red Rubber Ball (1966, #2 USA), written by Paul Simon with Bruce Woodley of The Seekers.
Composer Neil Sedaka (b.1939) and lyricist Howard Greenfield (1936-1986) met as teenagers in their Brooklyn neighbourhood in the early 50s and became one of the most successful pop songwriting teams of the Brill Building era. Sedaka and Greenfield wrote many hit songs together, often recorded by Sedaka himself, including Oh! Carol, Calendar Girl, Happy Birthday Sweet Sixteen and Breaking up Is Hard to Do. Their first hit was Stupid Cupid for Connie Francis in 1958, and their last was Love Will Keep Us Together, a #1 for The Captain & Tennille in 1973.
Further reading: 1. All Music Guide entries on Neil Sedaka, Howard Greenfield and The Cyrkle. 2. Songwriters Hall of Fame pages for Neil Sedaka and Howard Greenfield. 3. Neil Sedaka's official website at NeilSedaka.com.
---
---
Brenda Lee - We Had A Good Thing Going (1973)
Similar title but not the same song as 'We Had A Good Thing Goin' ' by Ronnie Burns.
Single on MCA by teen rocker who later turned to country.
---
Barbara Lynn - (Oh Baby) We Got A Good Thing Goin' (1964)
Not to be confused with 'We Had A Good Thing Going'.
Single on Jamie by Texan guitarist-singer-songwriter. The song is better known to some through the Rolling Stones' version on Out Of Our Heads (1965).
Also known as We Got A Good Thing Going, the title is registered at US Copyright office as Ohoo baby (we got a good thing going).