Ronnie Burns - True True Lovin' (1965)
Single on Spin label, Ronnie Burns's second locally charting single (after The Very Last Day) before his first national hit Coalman.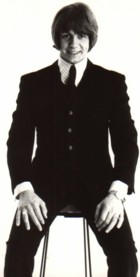 Melbourne singer Ronnie Burns emerged in 1964 as a member of Beatles influenced band The Flies, and went on to a successful solo career. After signing with Spin he benefited from his association with The Bee Gees, and he had several charting singles, usually with original songs by Australian songwriters.

Ronnie and his wife Maggie later ran the Appin Hall Children's Foundation, their non-profit organization for children in crisis and distress.
From the 60s to the 90s, Ronnie hosted and produced several television programs, including his own creation, Prophecy & Prediction – Threat or Warning? In the late 90s he joined fellow music stars Russell Morris and Darryl Cotton to form Burns, Cotton & Morris. Along the way he ran an architectural and design company and wrote The Australian House Book.
In 2001, Ronnie was the subject of This Is Your Life, for which 2 million people tuned in to the Nine Network.
Reference

: Ronnie Burns, official biography