On the EP We Had A Good Thing Goin' on Spin label.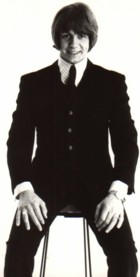 Melbourne singer Ronnie Burns emerged in 1964 as a member of Beatles influenced band The Flies, and went on to a successful solo career. After signing with Spin he benefited from his association with The Bee Gees, and he had several charting singles, usually with original songs by Australian songwriters.

Ronnie Burns and his wife Maggie later ran the Appin Hall Children's Foundation, their non-profit organization for children in crisis and distress.
From the 60s to the 90s, Ronnie hosted and produced several television programs, including his own creation, Prophecy & Prediction – Threat or Warning? In the late 90s he joined fellow music stars Russell Morris and Darryl Cotton to form Burns, Cotton & Morris. Along the way he ran an architectural and design company and wrote The Australian House Book.
In 2001, Ronnie was the subject of This Is Your Life, for which 2 million people tuned in to the Nine Network.
Reference

: Ronnie Burns, official biography
Thanks to P. Mills for suggestion.
---
The Everly Brothers - Fifi The Flea (1966)
On the Warner Brothers album Two Yanks In London, recorded in London (also released as a single). Eight of the album's twelve tracks were contributed by The Hollies, about half of them also released by The Hollies themselves, including Fifi The Flea. See Richie Unterberger's notes for a reissue of Two Yanks In London.
The title of the album echoes several films of the 30s and 40s, including A Yank At Oxford and A Yank At Eton.
---
The Hollies - Fifi The Flea (1966)
On the 1966 album Would You Believe, also on the 1966 US album Beat Group!
Fifi The Flea was .
---
The Sidekicks - Fifi The Flea (1966)
Single on RCA.
The Sidekicks had changed their name from The Redcoats, a manufactured attempt at creating an American-grown British Invasion-style band.
Brothers Zac and Randy Bocel became Redcoats after auditioning for Mike Burke and John Spirt, the other two band members, and the band was produced by Steven Rappaport.
Steven Rappaport and John Spirt were cousins who had been in The Randells with Steven's brother Robert, and had charted with the sci-fi dance novelty The Martian Hop in 1963 (#35 USA, also a hit in Australia).
An album by The Redcoats remained unreleased until 2001 (Meet The Redcoats: Finally
) but as The Sidekicks they released one album on RCA in the 60s.
Further reading: The account of 'Sidekicksmania' by Zac Bocel at 60sGarageBands.com and the interview with Steven Rappaport at Music Dish.
---
---
Paul & Barry Ryan - Fifi The Flea (1967)
Track on Decca album Two Of A Kind by twin brothers who had eight minor hits as Paul & Barry Ryan 1965-1967, followed by Barry Ryan's #2 UK hit Eloise (1968), written by Paul.
Further reading: Album review and career notes at Anorak Thing.