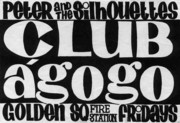 Claudette Jones was written by Silhouettes lead singer and keyboardist Peter Rechter with lead guitarist Kevin Clancy.
The Silhouettes, from Bendigo in Victoria, were formed in 1964. Claudette Jones was one of two Silhouettes tracks included on The Scene… Northern Victoria, a 1966 LP recorded in Melbourne by various artists from Bendigo and nearby towns.
In 1966, with a partially changed line-up, The Silhouettes became The Tol-Puddle Martyrs, whose keyboard-driven r&b sound and lyrics of social commentary made them one of the hippest and most popular bands in their region. They recorded two still highly-regarded singles, Time Will Come/Social Cell (1967) and Love Your Life/Nellie Bligh (1968). [Watch Time Will Come at YouTube.]
In recent years there has been renewed interest in The Silhouettes and The Tol-Puddle Martyrs, especially by aficionados of overlooked 60s beat/garage bands. Reissues, broadcasts and remakes of Claudette Jones have come from a number of independent sources, often beyond Australia.
Update 2017: Peter Rechter has continued to write and record, and in recent years has released further Tol-Puddle Martyrs albums. The latest, Polyphony (2017), is available on CD or as a download through CD Baby. Also available: Psych-Out USA (2007), A Celebrated Man (2009) and other releases.

The Silhouettes' original version of Claudette Jones is on the collection Tol-Puddle Martyrs, along with all four original sides of The Tol-Puddle Martyrs' 1960s singles. Also included is a later recording of Claudette Jones by Peter Rechter's band Secrets (see below). The album is also now available (2017) as a download or on CD from CD Baby.
Further reading: 1. Tol-Puddle Martyrs at Facebook. 2. Tol-Puddle Martyrs history by Richie Unterberger at All Music Guide.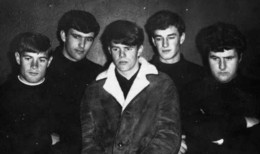 Peter & the Silhouettes, as seen on the album
cover of The Scene… Northern Victoria.
Lords Of Gravity - Claudette Jones (2005)
On album Contact by garage/punk/folk band on the Off The Hip label, by the record store of the same name at 381 Flinders Lane (via Tavistock Place), Melbourne.
The Secrets [Tol-Puddle Martyrs] - Claudette Jones (2001)
Peter Rechter's post-Tol-Puddle Martyrs band, first formed in 1977 as Ginger, became The Secrets in 1979. They disbanded in the 80s but were re-formed in 1996 by Peter with Graham McCoy, and continued to release fresh material into the early 2000s.
This was recorded at a Secrets session but has also been distributed with the old Tol-Puddle Martyrs name.
Now available on the retrospective album Tol-Puddle Martyrs, along with original 60s tracks by Tol-Puddle Martyrs and Peter & The Silhouettes.