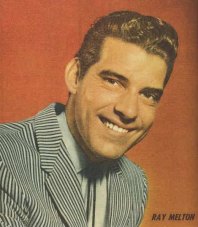 Single on Teen by Ray Melton (c.1939-1964). Orchestra conducted by Bob (Beetles) Young. The A-side of the single, The Key, charted in Sydney.
Melton was probably Ray of Ted & Ray: see their popular 1959 record Tell Him No.
Sydney-based Ray Melton appears to have been active as a singer from the mid-50s to the early 60s. He released a number of records 1956-1961 on the Prestophone, HMV, Leedon, Teen and Festival labels.
Melton successfully auditioned for Sydney's Channel 7 in 1958, and he was often seen on local and national TV music shows including Channel 9's Bandstand, Channel 7's Tonight Show, and Sing, Sing, Sing, also from Channel 7. In October 1962 he presented Ray Melton Sings, a 15-minute Saturday evening series for ABC Radio.
The Teenagers' Weekly pages in The Australian Women's Weekly gave some biographical details in February 1961: Sydney's Ray Melton is a TV, radio, and recording star with a difference – he's also an interior decorator for a hotel-owning brewery. Ray came here from Hongkong as a baby, went to school in Wollongong… In July 1961 the Weekly reported that Melton and his mother had moved into a house in Bondi with a rosewood grand piano and a german shepherd called Key, named after his master's record The Key.

Col Joye's hit Teenage Baby (1959, #4 Sydney, #8 Melbourne, #7 Brisbane, #2 Adelaide) was written by Ray Melton with a co-writer credit to deejay Tony Withers. A version by Frank Ifield co-charted in Adelaide.
---
Not to be confused with Ray Melton (c.1939-2021), US country-rock singer from Murfreesboro, Tennessee, known for Boppin' Guitar (1960), on Nashville label Image. He seems to have performed in the 70s and 80s as Little Ray Melton, mainly in Panama City, Florida.
There was also a Ray Melton & His Country All Stars, who released She Hit The Ceilin' (When I Hit The Door) in 1951. I'm assuming that's yet another story, although it was on a Nashville label, Bullet, so perhaps there's a family connection with young Ray.
---
Image: Australian Women's Weekly, 24 February 1960 [Trove].
References: I've drawn mainly on Screensound's First Wave discography, Australian label discographies at GlobalDogs.info, Australian Womens Weekly archives at Trove, Sydney Morning Herald archives at Google News archive. For a list of links to specific pages used, contact me.
Thanks to Dave Overett and Tony Watson.
Freddie Hart - Chain Gang (1959)
Single on Columbia by country & gospel singer b. 1926.
This is not the Sam Cooke hit. This Chain Gang was written by Harlan Howard, country music's preeminent composer [AllMusic] whose hits included Heartaches by the Number (Guy Mitchell, Ray Price), I Fall to Pieces (Patsy Cline; co-wr. Hank Cochran) and Busted (Johnny Cash, Ray Charles).