Ray Brown - New Kind Of Love (1967)
Double-sided hit in Sydney with The Same Old Song.
Lead singer of The Whispers, one of the most popular Australian bands of the British Invasion era.
Writers: You will see this credited to Dave Clark & Mike Smith (for example at APRA and on some reissues), but that's a mix-up: see below under THE DAVE CLARK FIVE.
Further reading: Ray Brown history at Milesago.
Disambiguation: 1. This is not Ray Brown, the American jazz bassist (1926-2002). 2. The Whispers were not the American R&B vocal group formed in 1964.
---
The Dave Clark Five - New Kind Of Love (1965)
Same title but not the same song as 'New Kind Of Love' by Ray Brown.
Track on the soundtrack album to Having A Wild Weekend, the Dave Clark Five's answer to The Beatles' A Hard Day's Night.
A big thank you to Alan Baratta for spotting the red herring.
Even APRA credits Ray Brown's 'New Kind Of Love' to Clark & Smith, but this is definitely a different song. See Glad All Over for a genuine Clark-Smith original version.
---
Willie Harper - New Kind Of Love (1962)
Single on Joe Banashak's New Orleans label Alon, produced by Allen Toussaint and written by New Orleans singer Earl King.
Although Allen Toussaint was associated with the label, Alon is a backwards initialisation of New Orleans, LA.4
Willie Harper's track is still available on reissues, for example through iTunes.
References, further reading: 1. Detailed notes on the background to this record at Home of the Groove. 2. More on Willie Harper at Funky16Corners. 3. Audio and label shot at YouTube. 4. Alon label: see John Broven, Rhythm and Blues in New Orleans, p.201 (Google Books).
---
Barbara Lynn - New Kind Of Love (1967)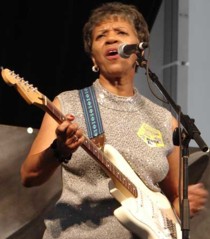 Single on Tribe by Barbara Lynn Ozen (b. 1942), highly regarded soul-blues guitarist-singer-songwriter from Texas. Her big hit was You'll Lose A Good Thing (1962, #8 USA). She was also known for (Oh Baby) We Got A Good Thing Goin' (1964), covered by the Rolling Stones on Out Of Our Heads (1965).
Further reading: 1. Mick Patrick's definitive account of Barbara Lynn at Cha Cha Charming. 2. Red Kelly's post on Barbara Lynn at The B Side. 3. Barbara Lynn at MySpace. 4. Wikipedia article. 5. My brief appreciation of Barbara Lynn.
ARSA correspondent Terry Stacey reports that this was a Red Bullet Pick at WIGO in Atlanta Georgia on 28 August 1967.
Image of Barbara Lynn 2008 (slightly cropped) by Masahiro Sumori (Creative Commons license)