Hush - Glad All Over (1975)
Single on Wizard label.
Glam band from Sydney with a boogie beat, Hush inspired teenybopper hysteria in the mid-70s, fuelled by their appearances on the national TV pop show Countdown.
The band reformed for a charity performance in 2004: see John Elder's interview with Keith Lamb, who founded the band in 1971.
Suggestion from Terry Stacey.
---
The Dave Clark Five - Glad All Over (1964)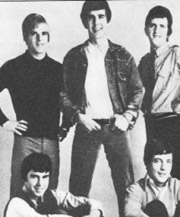 North London British Invasion quintent, promoted as having 'The Tottenham Sound' in competition with Merseybeat.
The writers were the drummer and the lead singer of the band. They also wrote, for example, Bits And Pieces (1964, a hit in UK, USA and Australia) and Try Too Hard (1966). They also wrote DC5's New Kind Of Love (1965), same title but not the same song as Ray Brown's 1967 recording.
---
Carl Perkins - Glad All Over (1958)
Same title but not the same song as 'Glad All Over' by Hush.

Single on Sun label, original version of a song famously played in 1963 by The Beatles on the BBC's Pop Goes The Beatles and released on the Beatles' Live at the BBC (1994).
Sid Tepper and Roy C. Bennett were prolific US songwriters whose partnership lasted from 1945 until 1970. They wrote numerous songs for Elvis Presley films, and for British pop star Cliff Richard. More details at the Wikipedia entries for Tepper and Bennett. See also the interview with Roy C. Bennett at elvis-collectors.com.
Thanks to David Overett.
Beatles details from DM's Beatles Site by Dmitry Murashev (Live at the BBC, Glad All Over)