First released version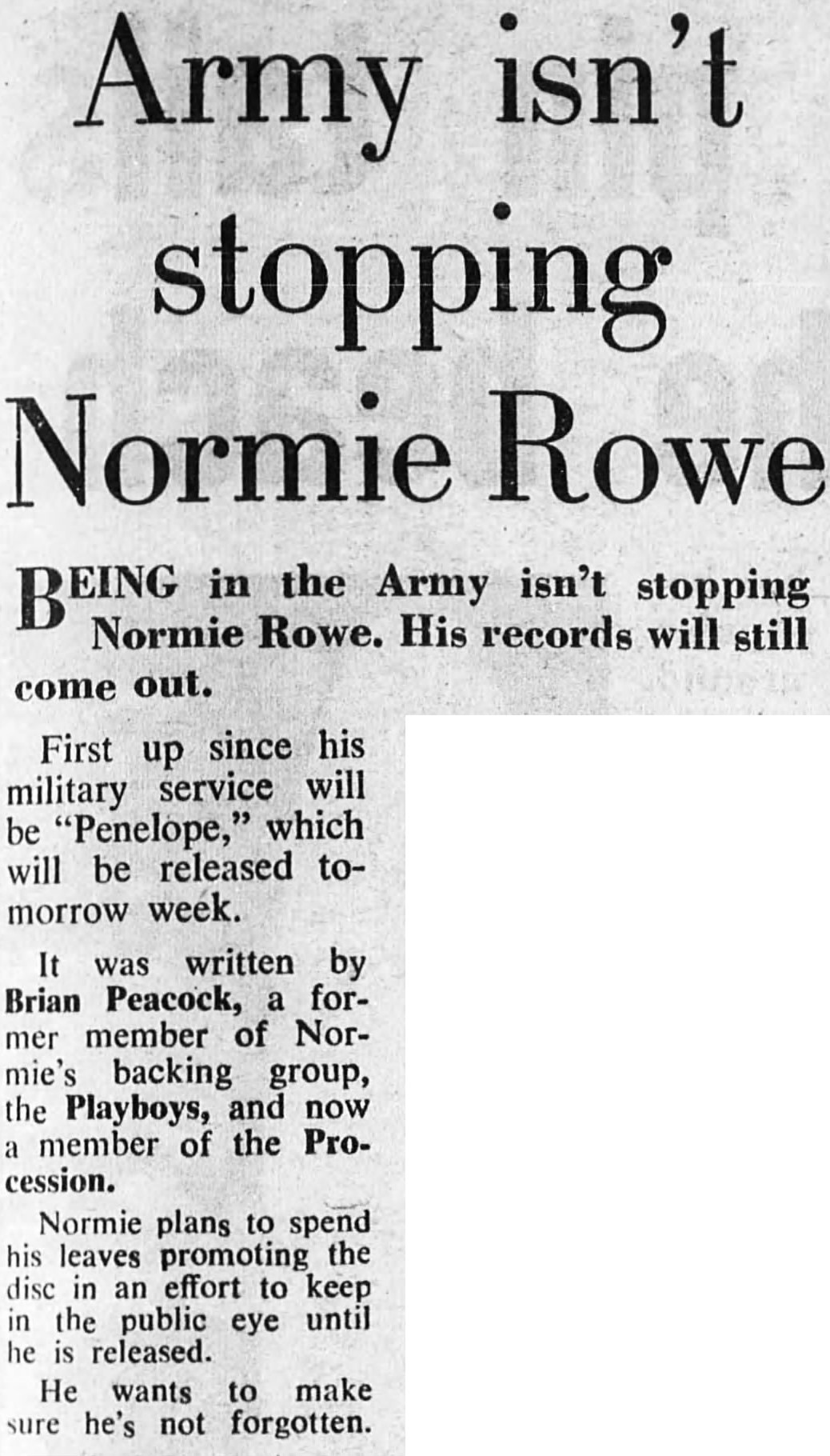 Single on Sunshine, March 1968. Normie Rowe had been called up in September 1967, and entered the Australian Army in January 1968. (See also: Turn Down Day, from that period.) Penelope was written by a former member of Normie's band The Playboys, Brian Peacock, who by this time had co-founded Procession.
Melbourne singer Normie Rowe became Australia's top teen idol of the late 60s and the star of Ivan Dayman's Sunshine label. He had a string of hits in Australia from 1965, recorded four singles in London, toured Britain and America, and even inspired a tribute song, Norman-Normie. After he was conscripted to serve in Vietnam he never regained his earlier 'King of Pop' status, but he re-established himself as a respected performer, especially on stage, starring in such productions as Les Miserables and Annie.
See also, for example, his hits Que Sera Sera and It Ain't Necessarily So.
Further reading: 1. Normie Rowe biography at Milesago. 2. Official site at NormieRowe.com.
Procession - Penelope (1967)
Procession performed Penelope on TV pop show Uptight in December 1967 and it seems likely that that there were other live performances of the song in the last months of 1967. Formed in October 1967, Procession appeared regularly on Uptight from November, and by December the band was busy with appearances in Melbourne as well as visits to Sydney and Adelaide.
Procession was formed by Brian Peacock – the composer of Penelope – and Mick Rogers. They were members of Normie Rowe's band The Playboys when Normie was drafted into the Australian Army.
A later performance by Procession was recorded at Melbourne discotheque Sebastian's in April 1968 and released on the Festival album Live at Sebastian's in May 1968.
---
Chronology:
October 1967: Procession formed
December 1967: Procession plays Penelope on TV pop show Uptight.
March 1968 Normie Rowe's single of Penelope is released.
April 1968 Procession are recorded playing Penelope at Sebastian's discotheque.
May 1968 Procession's recording from Sebastian's, including Penelope, is released on Live at Sebastian's.
---
Procession was an innovative, experimental band. Milesago quotes Go-Set's Lily Brett on their first single, Anthem (1968, #7 Melbourne): The backing track is all vocal; all the intricate sounds usually provided by bass, rhythm and lead guitars, organ and drums, are mimicked by the voices of The Procession; with a sad, almost cynical, message sung through and over the involved backing.
Sources:
1. Milesago's history of Procession by Nick Warburton explores every detail of the band's history.
2. I'm indebted to YouTube channel nzoz1967 for notes on the video that date the Uptight performance of Penelope in December 1967.