Merv Benton - The Worryin' Kind (1966)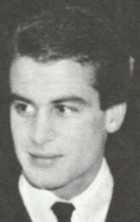 Single on W&G by popular rock'n'roll singer in the heart-throb mould, backed by The Tamlas. Merv Benton did especially well in his home town of Melbourne, where he had 15 charting records 1964-67, but retired from music after suffering disabling voice problems.
Further reading: Tony Wilkinson's account of Merv Benton, reprinted at Black Cat Rockabilly.
See also I Got Burned, Merv Benton's biggest local hit.
Thanks to Bob Wynne for asking about this one.
Tommy Sands - The Worryin' Kind (1958)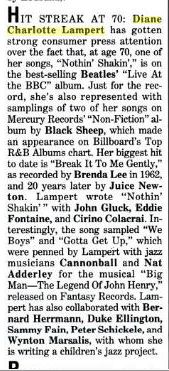 Single on Capitol by teen idol and movie star, born 1937. Rockin' Country Style has an audio sample, label shot and discographical details [link].
The writer credits on the single show Diane Lampert, better known professionally as Diane Charlotte Lampert (b. c.1925). The Billboard story (right) gives an overview of her career up till 1995.
Co-writer credit on the single is to Allison Dewar, clearly an alias of Graham Turnbull: their repertoires at BMI are identical.
Graham Turnbull (1931-2009) was a Canadian guitarist, singer and songwriter, full name Graham Morrison Turnbull. He was known as Scott Turner, also as Scotty Turner, Scott Turnbull or Graham Scotty Turnbull). He was an associate of Australian pop star Johnny O'Keefe who recorded some Turner/Turnbull songs in Los Angeles, notably the hits She's My Baby and Don't You Know Pretty Baby.
The Worryin' Kind has also been recorded by Ronnie Dawson (1989), Johnny & The Roccos (1997), The Tin Star Trio (2000, rec. '89-'90).

Thanks to Fred Stuart
Correction from Marc Coulavin, thank you.