Single on W&G by popular rock'n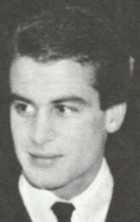 'roll singer
in the heart-throb mould, backed by The Tamlas. Merv Benton did especially well in his home town of Melbourne: I Got Burned was his biggest hit out of 15 charting records 1964-67. He retired from music after suffering disabling voice problems.

Reference: Ian McFarlane, Encyclopedia of Australian Rock & Pop.
Further reading: Tony Wilkinson's account of Merv Benton, reprinted at Black Cat Rockabilly.
Chart data by Gavin Ryan.
Thanks to Terry Stacey.