Marty Rhone - Denim And Lace (1975)
Single on M7.
The writers are Roy Lister, A&R man at Leeds Music who used the pseudonym Jack Aranda (get it?), and the country musician and producer Shad Lyons.
Roy Lister/Jack Aranda and Marty Rhone wrote A Mean Pair Of Jeans, another Marty Rhone hit, in 1977 (#5 Sydney, #12 Melbourne, #7 Brisbane, #1 Adelaide, #5 Perth).
Marty Rhone: singer, songwriter and actor, real name Carl Van Rhoon (b.1948). In 1966 Spin Records teamed him with established Sydney band The Soul Agents. His later solo career was interrupted in 1970 when (like Normie Rowe) he was conscripted into the Australian Army for two years.
See also Every Minute Of You (1966), and his minor hits No No No No No (1967) and She's Coming Home (1968).
Below: The writers of Denim And Lace in August 1976: Roy Lister/Jack Aranda (centre) and Shad Lyons (2nd from right) with Sydney band Tempest at the Wentworth Hotel. The Aranda-Lyons composition Campbelltown had just won the Campbelltown Song Contest.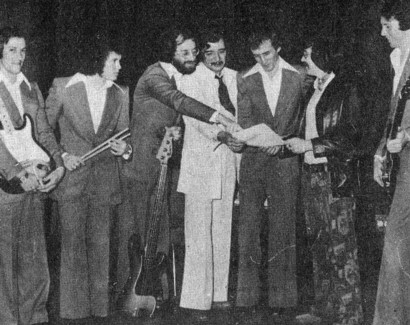 L → R: John Tucker, Randle Green, Terry Stacey, Jack Aranda (Roy Lister), Rob Van Beck, Shad Lyons and Mick Rivas. (Stacey & Van Beck had been in Wildwoood: see One Bad Thing.)
Further reading: 1. Howlspace's Marty Rhone & The Soul Agents page from Howlspace [archived]. 2. The still-active Marty Rhone's website at MartyRhone.com. 3. Marty's YouTube channel – MartyRhoneDotCom – has videos of his recent work.
Thanks to Terry Stacey for research and archival material and to Mat Van Rhoon for updates.