Marty Kristian - We Didn't Ask To Be Brought Here (1966)
Single on CBS, one of three released 1966-1967 by Melbourne singer Marty Kristian (b. Martin Vanags in Germany, 1947).
In 1969 Kristian joined the British pop group The New Seekers after working his passage to the UK as a shipboard entertainer. He sang (sometimes on lead), played guitar, wrote, and produced with The New Seekers from their formation in 1969 until 2002 (with a break-up and re-formation 1974-76). The New Seekers were connected with the original 60s Seekers through Keith Potger, an original Seeker who was the brains behind the younger, poppier group. They were popular in the UK (14 Top 40 entries 1970-77), and they had three charting records in the USA including I'd Like to Teach The World To Sing (1971, #1 UK, #7 USA).
See also I'll Give You Love (1966) and It Comes And Goes (1967).
References, further reading: 1. Marty Kristian official website. 2. The New Seekers website tells the story of the group in photos and text (follow the arrows). 3. Wikipedia entries on Marty Kristian and The New Seekers.
Bobby Darin - We Didn't Ask To Be Brought Here (1965)
Single on Atlantic, September 1965.
Wikipedia's infobox summary of Bobby Darin (1936-1973) says a lot about his widely ranging career:
Genres Jazz, blues, rock'n'roll,
pop, swing, folk
Occupation(s) Musician,
singer-songwriter, actor
Instruments Vocals, guitar, piano, drums, harmonica, xylophone
Darin recorded this after returning from Capitol to Atlantic, the label that had released (through Atco) his sixteen Top 40 hits from Splish Splash (1958, #3 USA) to Things (1962 #3). During this later period he showed influences from current musical trends, became active in politics as a Bobby Kennedy Democrat, and produced his last big hit, a version of folk singer-songwriter Tim Hardin's If I Were A Carpenter (1966, #8 USA).
---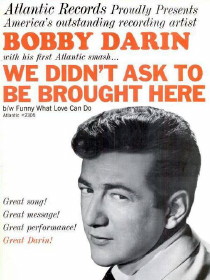 We Didn't Ask To Be Brought Here had an up-to-date folk-rock sound and its lyrics about the blamelessness of youth fitted with the current protest song genre. Its Billboard ad pushed its great message, and although it doesn't explicitly mention the war or Vietnam, it has been taken as an anti-war song. Richie Unterberger at All Music has it as an unexpected antiwar tune, and Lee Anderson includes it in the discography for his book Battle Notes: Music of the Vietnam War. Shane Brown at his blog Beyond Boundaries notes that it is an early example of the protest music that would later be a feature of the album Bobby Darin Born Walden Robert Cassotto (1968), with songs about the war, the environment and politics.
---
References, further reading: 1. Bobby Darin biography by Richie Unterberger at All Music. 2. Shane Brown on Darin's protest music.