Released 1966, charted March 1967.
Single on CBS (also in UK), one of three 1966-1967 by Melbourne singer Marty Kristian (b. Martin Vanags in Germany, 1947).
---
See also We Didn't Ask To Be Brought Here (1966) and It Comes And Goes (1967).
---
In 1969 Kristian joined the British pop group The New Seekers after working his passage to the UK as a shipboard entertainer. He sang (sometimes on lead), played guitar, wrote, and produced with The New Seekers from their formation in 1969 until 2002 (with a break-up and re-formation 1974-76). The New Seekers were connected with the original 60s Seekers through Keith Potger, an original Seeker who was the brains behind the younger, poppier group. They were popular in the UK (14 Top 40 entries 1970-77), and they had three charting records in the USA including I'd Like to Teach The World To Sing (1971, #1 UK, #7 USA).
---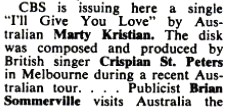 I'll Give You Love was written by British singer-songwriter Crispian St Peters (1939-2010) who produced the single while touring Australia. At this time St Peters was known for his two big hits, You Were On My Mind (1965, #2 UK, #36 USA, a cover of the We Five US hit version of the Ian & Sylvia song) and The Pied Piper (1966, #5 UK, #4 USA, a remake of the 1965 original by The Changin' Times). Both songs were also hits in Australia.
According to the biography at the Marty Kristian website it was Ken Pitt, manager of Crispian St Peters, who arranged for Marty to record a song that Crispian had written and also invited him to come to England where he promised to help with his career.
---
I can't find any evidence of Crispian St Peters having recorded this himself.
Image: Billboard, 1 April 1967 [via Google Books].
Reference, further reading: 1. Marty Kristian official website (quoted above). 2. Crispian St Peters obituary from The Independent. 3. The New Seekers website tells the story of the group in photos and text (follow the arrows). 4. Wikipedia entries on Marty Kristian, Crispian St Peters and The New Seekers.
Suggestion from Terry Stacey.
Lloyd & Glen - I'll Give You Love (1968)
SAME TITLE BUT NOT THE SAME SONG AS
'I'LL GIVE YOU LOVE' BY MARTY KRISTIAN.
Single on Jamaican label Stag, also on Doctor Bird (UK), by Lloyd Robinson (b. Altemont Thomas Robinson) and Glenmore Lloyd "Glen" Brown. B-side of Successful Man. Reggae, rocksteady style.
Reference, further reading: Lloyd & Glen background at Aquarium Drunkard. See also Discogs.com listing.
---

Other red herrings include:
Miki Dallon – I'll Give You Love (Lionel Segal)
USA 1965 Single on RCA Victor, B-side of I Care About You.
The Foundations – I'll Give You Love (Colin Young)
UK 1971 Single on MCA, B-side of Smokey Ground.