M.P.D. Ltd - Little Boy Sad (1965)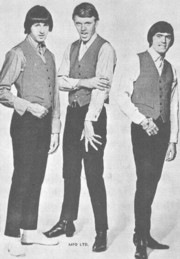 Single on Go!! label.
Double-sided hit in Melbourne with the B-side, Wendy Don't Go.
Melbourne beat trio driven by a heavy rhythm section, formed in 1965. The 'M', the 'P' and the 'D' were for Mike Brady, Pete Watson and Danny Finley. Mike and Pete had met in Shadows-style band The Phantoms, and Danny had been drummer with another instrumental band The Saxons (see Pedro The Fisherman).
Mike Brady was later responsible for numerous well-known advertising jingles, and as one half of Two Man Band had a hit in 1979 with the Australian Rules football song Up There Cazaly YouTube.
See also You Might As Well Forget Him, Lonely Boy and Walkin' In The Sand.
Further reading: Paul Culnane's band history and appreciation of MPD Ltd at Milesago. Suggestion from John Yeager.
Johnny Burnette - Little Boy Sad (1961)
Singer from Memphis (1934-1964) who formed the rockabilly Johnny Burnette Rock'n'Roll Trio in the wake of Elvis's success recording with a trio at Sun Records.
Johnny Burnette and his brother Dorsey (1932-1979), also a member of the Trio, later wrote songs at Imperial Records, notably for Ricky Nelson (see Gypsy Woman).
At Liberty Records Johnny recorded a number of solo pop hits in the early 60s with producer 'Snuff' Garrett, including Dreamin, Little Boy Sad and You're Sixteen. At the same time, Dorsey established a solo career ([There Was A] Tall Oak Tree, Big Rock Candy Mountain).
Johnny Burnette's son Rocky had a hit in 1980 with Tired Of Toein' The Line.
---
The composer, Wayne Paul Walker (1925-1979), recorded as a country-rockabilly singer on a number of labels from the mid-50s, but his greatest success was as a songwriter, mainly in country music. He started recording and writing when he was appearing on Louisiana Hayride on KWKH Shreveport. In 1954, his first record came out on Chess, and he co-wrote How Do You Think I Feel (with Webb Pierce), recorded by country star Red Sovine (1954) and by Elvis Presley on Elvis (1956). By 1956 Walker was living in Nashville, signed as a writer for Cedarwood publishers, and recording for Columbia, Coral and Brunswick.
Some notable Wayne Walker compositions from a large repertoire include Ain't I'm A Dog (Ronnie Self 1957; Johnny Rebb, 1963), Are You Sincere (Andy Williams, 1958 #3 USA; Elvis Presley 1973 on Raised On Rock), and Cut Across Shorty (Eddie Cochran 1960; Rod Stewart 1970 on Gasoline Alley, co-wr. Marijohn Wilkin).
---
Reference: Phil Hardy & Dave Laing, Encyclopedia of Rock Vol. 1: The Age Of Rock'n'Roll, (1975). See also the Burnette House website, covering the musical careers of all the Burnettes.
Thanks to Peter Letheby for correction.
Les Atomes - Pauvre Fou [Little Boy Sad] (1967)
Single on Capitol (Canada), French interpretation by band from Saint-Jérôme, Quebec. The French title is in the vein of Ricky Nelson's Poor Little Fool.
Thanks to Chas Kit @ GarageHangover for version alert.