Single on W&G label, Melbourne.
The Phantoms were one of a number of Aussie bands who played instrumentals after the style of The Shadows or The Ventures in the pre-Beatles years of the early 60s.
They also charted in Melbourne with an original instrumental, Stampede (#27 1962).
Mike Brady and Pete Watson, later the 'M' and the 'P' of MPD Ltd, met while playing in The Phantoms. See Little Boy Sad by MPD Ltd.
Further reading: Bizarro Shadows World Down Under at The Blog.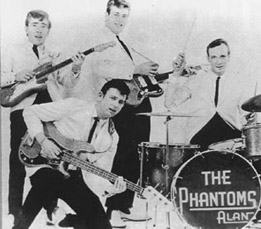 ---
---
The Shadows - The Rumble (1962)
Track on album Out of the Shadows, October 1962, also on EP Out Of The Shadows 2, May 1963.
Ike Isaacs (1919-1996) was a British jazz guitarist, born in Burma, who played, for example, with Stephane Grappelli (in the 70s) and Carmen MacRae, and in a duo with Martin Taylor. He spent his later years in Sydney where he taught at the Sydney Guitar School.
APRA gives an alternative title: Bison. Both Ike Isaacs and Hank B. Marvin of the Shadows were associated with guitar designer Jim Burns, whose designs included the Black Bison and Marvin guitars. The Bison was apparently named after Ike Isaacs commented on it, "It looks like a bloody bison!". Is there a connection?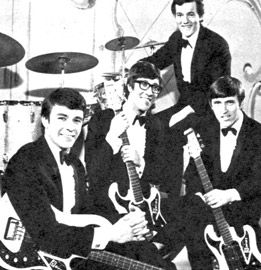 The Shads, circa 1967
---
Link Wray And His Ray Men - Rumble (1958)
Similar title but not the same song as "Rumble" by The Phantoms.
Single on Cadence label.
This track by legendary and influential guitarist Link Wray (b. 1935) was written with disc jockey Milt Grant. It featured an innovative "distorted fuzz-tone guitar sound" in order to "approximate the effect of a brawl…" (The Rolling Stone Encyclopedia of Rock & Roll).
Also recorded, for example, by Jack Nitzsche (1963) and Dick Dale (1993).