Johnny Rebb - Ain't I'm A Dog (1963)
Single on CBS, on the Sydney charts Sept-Oct 1963. B-side of Seein' Is Believin'. Produced by Sven Libaek.
Johnny Rebb (b. Dellbridge), known as The Gentleman of Rock'n'Roll, was signed by EMI for one single on Columbia in 1958 before joining Sydney entrepreneur Lee Gordon's Leedon and Lee Gordon labels. Noelene/Hey Sheriff was his first Leedon single, released at the end of 1958, and gave him his first charting single early in 1959. He became a regular on Johnny O'Keefe's Six O'Clock Rock, even filling in as host in JO'K's absence.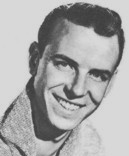 Johnny Rebb had been retired from the music business for many years when he died in July 2014.
See also: Highway of Love (1959).
Backing is by Sydney band The Atlantics. They were best known for their surf instrumentals, notably their Libaek-produced hits Bombora [YouTube] and The Crusher [YouTube] (both 1963), but they were also heard on records behind various solo artists from August 1963, including several by Johnny Rebb. Later, Rebb sang with The Atlantics, for example on their charting single I Put A Spell On You (1966).
Disambiguation: This is not the Johnny Rebb who released at least one single on New Orleans label Flame in 1959.
Further reading: 1. Johnny Rebb obituary at Sydney Morning Herald. 2. Johnny Rebb by Ken Sparkes at Juke Box Saturday Night's Rock and Roll Heaven.
Suggestion from Terry Stacey. Thanks to Stephen McParland for clarification and additional detail.
Ronnie Self - Ain't I'm A Dog (1957)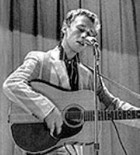 Single on Columbia in USA, on Coronet in Australia. Also released by Columbia on 78 rpm disc.
Ronnie Self (1938-1981) was a talented rock-rockabilly-pop performer who recorded many singles but never saw chart success in the US. He had two Top 40 singles in Sydney, Australia in 1958 with Ain't I'm A Dog (#31) and Bop-A-Lena (#25), and he is still highly regarded by rockabilly fans, especially in Europe.
He is also remembered for his songwriting, especially for Brenda Lee's breakthrough hits Sweet Nothin's (1960, #4 USA) and I'm Sorry (1960, #1, co-wr. Dub Allbritten), then Everybody Loves Me But You (1962, #6).
Jake Hess's recording of a Ronnie Self composition, Ain't That Beautiful Singing (1969), won the Grammy Award for Best Sacred Performance (Non-Classical).
Why Ronnie Self never made it as a performer is one of the great mysteries and injustices of pop music history… He should have been there, thought of in the same breath as [Carl] Perkins or Jerry Lee Lewis; instead, he's a footnote in rock & roll history outside of Europe, where he's treated as a legend.
– Bruce Eder, All Music
---
The writer credits: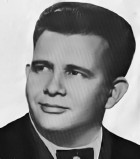 1. Wayne Paul Walker (1925-1979) recorded as a country-rockabilly singer on a number of labels from the mid-50s, but his greatest success was as a songwriter, mainly in country music. He started recording and writing when he was appearing on Louisiana Hayride on KWKH Shreveport. In 1954, his first record came out on Chess, and he co-wrote How Do You Think I Feel (with Webb Pierce), recorded by country star Red Sovine (1954) and by Elvis Presley on Elvis (1956). By 1956 Walker was living in Nashville, signed as a writer for Cedarwood publishers, and recording for Columbia, Coral and Brunswick.
Some notable Wayne Walker compositions from a large repertoire include:
• Are You Sincere (Andy Williams, 1958 #3 USA; Elvis Presley 1973 on Raised On Rock);
• Cut Across Shorty (Eddie Cochran 1960; Rod Stewart 1970 on Gasoline Alley, co-wr. Marijohn Wilkin;
• Little Boy Sad (Johnny Burnette 1961, #17 USA; MPD Ltd 1965).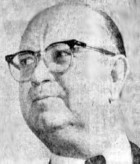 2. George Sherry is a pseudonym of Troy Lee Martin (1911-1977) a Nashville music publisher, talent scout and producer who in the 30s had been a singer, comedian, and wild west show manager. His writer credits, which appeared on many works he published or produced, used several aliases including George Sherry, Jerry Organ, and Shirley Lynn, as well as variations of his real name.
The All Music biography (my main source), noting that Martin's involvement in country music has never been properly recorded, traces various roles in several companies from the post-war 1940s to the early 70s. It mentions numerous songs that he brought to prominence, and concludes that he had the undoubted ability to select a hit song.
The wording of the title Ain't I'm a Dog can be baffling, and I've seen examples where chart compilers have tried to correct it, to Ain't I A Dog or (less convincingly) Ain't Me A Dog.
I'd assumed it was unique to this song, but in fact the construction isn't unheard of in American English. It has been discussed at length at the linguistics forum Language Log, where other examples are given, such as "Ain't this is a great country…"
In a post headed "Ain't I'm a Stinkah", Eric Bakovic writes that Ain't I'm a Dog [makes] perfect sense if you take 'ain't' to be a phrase-initial marker meaning something like "isn't it the case (that)", "don't you agree (that)", "it's clear (that)", or the like — observe: "It's clear that I'm a dog; I'm always steppin' around."
I don't pretend to understand all of that, let alone the whole discussion thread, but you can follow it up here if you're game. Links back to previous posts are included there.
References, further reading: 1. Ronnie Self story at Rockabilly Hall of Fame. 2. Ronnie Self: Biography by Bruce Eder at All Music. 3. Ronnie Self – Bop-A-Lena at Michael Jack Kirby's Way Back Attack. 4. Wayne Walker page at This Is My Life (was BlackCat Rockabilly). 5. Wayne Walker discography at 45cat.com. 6. Wayne Walker: selected discography with audio samples and label shots at Rockin' Country Style. 7. Troy Martin aka Troy Lee Martin: Biography (uncredited) at All Music. 8. Troy Martin at Discogs.com. 9. Eric Bakovic, Ain't I'm A Stinkah, post at Language Log, 2004 (scroll down).